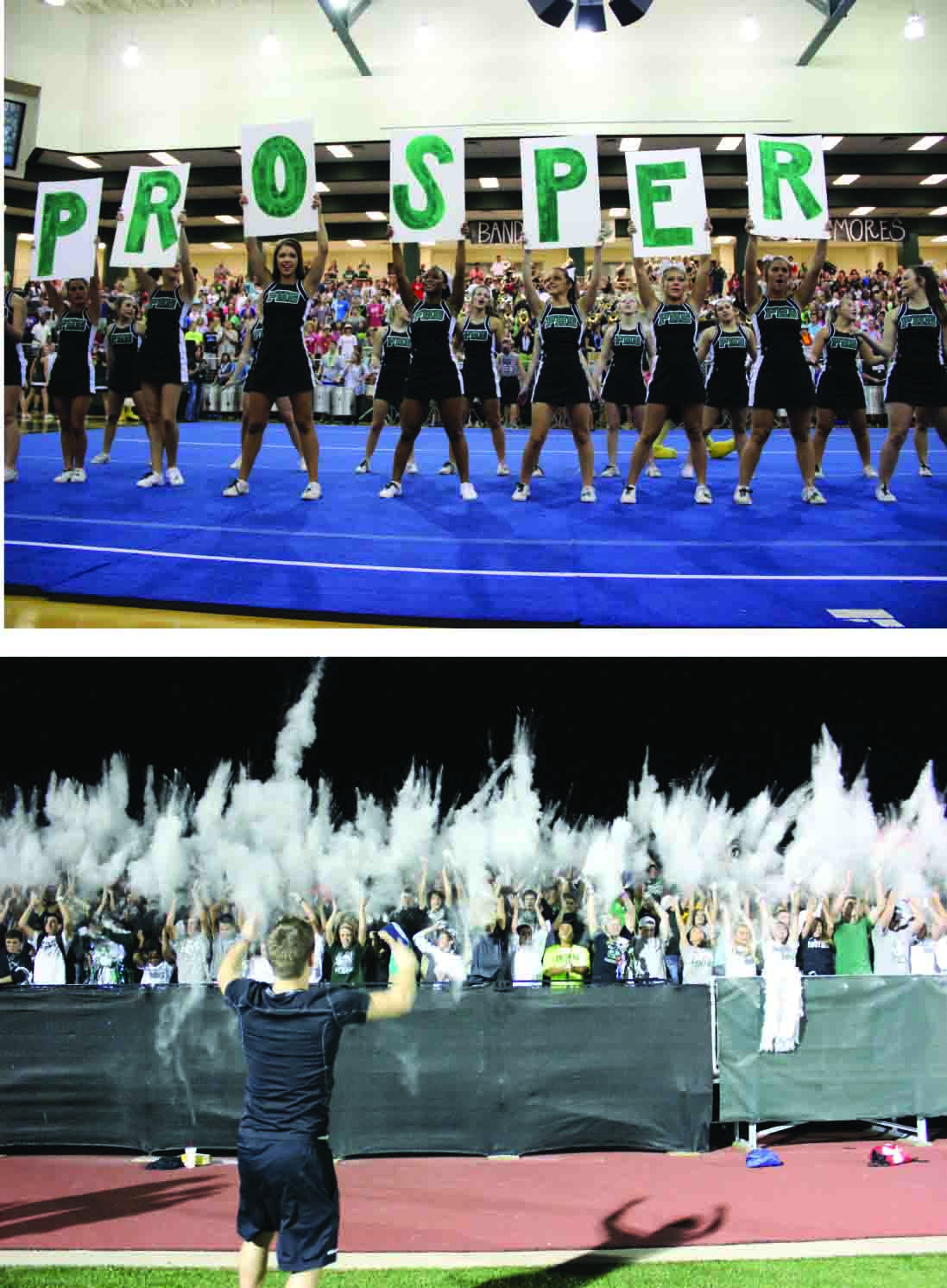 12 Dec

Traditions of a SMALL TOWN…
We got SPIRIT yes we do!

BY TISH CAMA – A student at Prosper High School

Mark Grey once said, "A chain is only as strong as its weakest link." Within the halls of Prosper High School these words come to life. While sitting in the stadium of an average stereotypical high school football game the crowd will constantly be watching the game and begins cheering when their team finally gets that touchdown to win them the game. Prosper students have changed this stereotype. The cheering begins at the beginning of the game and continues, non-stop, even after the game ends. The students continue to cheer for their teams, win or lose, because at Prosper we are family and there is no concept of losing. Losing is a state of the mind, we merely gain the knowledge to prepare ourselves in the next stage. When at a game or event the students playing or competing are not the ones who define our school, it is the students cheering on our players.

Positive reinforcement always leads to better results and the students always encouraging one another has led to a massive number of state and national qualifying students. Whether it be for sports, fine arts, academic competitions, UIL competitions, no matter what the event our students find a way to support those who build up Prospers reputation.

The spirit does not only show while at our school activities but becomes even stronger while at school pep rallies. Now a typical pep rally may consist of a few cheers, cheerleaders stunting, dancers, and only half participation from the student body. At Prosper High School that is unheard of. From our grade level competitions, to our chants, the school arena is booming with enthusiasm and participation from every individual.

The ability to gather up over 2,000 high school students and encourage them to have the freedom to be themselves, cheer, and enjoy themselves while supporting not only our athletes and jocks but every single person in the student body has changed the face of Prosper. When one person cheers it begins a chain reaction effect where now every student begins to feel as though they have a voice and they are part of a family.

The concept of school is to educate you and prepare you for the future which you wish to have, at Prosper High School the normal is over-rated and students are encouraged to create an everlasting memory from their high school career which they can look back on and realize how it felt to always know you had a family right by your side. Whether it be our state runner-up volleyball team or district champion UIL academic team, there will always be a voice supporting them. That voice is the one and only Prosper High School student section.