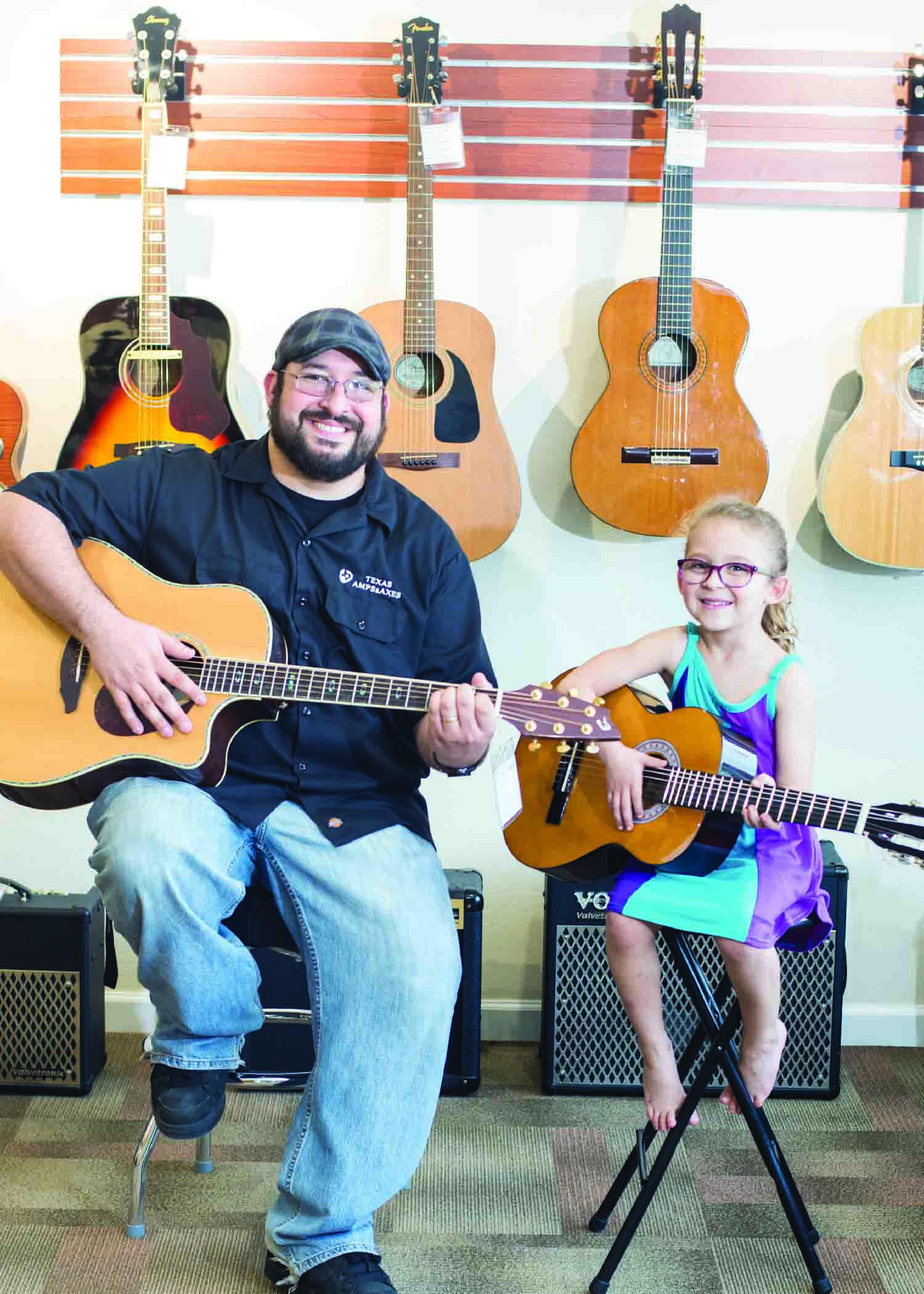 08 Apr

TEXAS AMPS & AXES: NOTHING A LITTLE MUSIC CAN'T HANDLE BY WENDI CARTWRIGHT PHOTO'S BY PITTMAN PHOTOGRAPHY

When  you  have  a  passion  for  all  things  music,  you  want  to share it…and that's just what Iris and Jon Meneley, owners of Texas Amps & Axes: Shop & School of Music are doing. You know they are serious about music when their kids are named Jazzy (Jasmine) and Hendrix! This family owned and operated shop, located in the heart of Prosper, became a reality in 2015. Now, the Meneley's days are filled with making music dreams come true, starting with their own budding star, Jazzy.

While providing a personal touch to their customer's music experience, Texas Amps & Axes (amplifiers and guitars) offers a two-prong approach to their business: a music shop and music lessons under the same roof. It was important to them to be able to provide a local shop where customers could not only find affordable merchandise and accessories, but gain access to a wide variety of top-quality and personalized music lessons, as well.

With a deep appreciation for community and family, everything they do is centered on what's best for the customer. "I witnessed a salesperson in a well-known music shop, selling a guitar to a new learner. The kid needed a standard 6-string to learn the basics. He was being encouraged to purchase an 8-string guitar, something a beginner doesn't

need. We want to get the right instrument into the right hands. If not, they become frustrated and will give up," says Jon. Texas Amps & Axes offers everything from pre-owned and gently-loved merchandise, to beautifully handcrafted and new items.

The music enthusiast can find instruments, amps, accessories (music stands, strings, picks, etc.) from top-selling brands that musicians rely on every day. They are proud to offer more budget friendly items, as well. "We want a single mom to be able to come in and find something for her 10-year old to begin his journey as a musician," adds Iris.

Texas Amps & Axes opened its doors at a perfect time in Prosper. As the growth of the community is expanding rapidly, many people interested in music were finding it difficult to locate a facility that offered lessons. Students as young as six now have the opportunity to take lessons in a wide variety of specialties: guitar, voice, piano, drums, fiddle, cello, violin and more.

Texas Amps & Axes is proud of their current lineup of teachers, who are highly educated in music (Doctorate, Master's and Bachelor's) with teaching and performance experience. That's especially important in shaping and guiding young performers. They even have a celebrity teacher…Tim McCord, bassist in the band, Evanescence.

Simply put…Texas Amps & Axes is unique. The idea was to incorporate all aspects of a musician's life into one place. It's more than a shop to buy an instrument or learn to play an instrument. It's an inspirational space, full of good vibes. It's a safe place to come and express yourself. There is a soundproof room for testing amps. Grab a guitar you're interested in off the wall and go jam with other customers…see how it feels and plays. Dads: reclaim your inner rock star! Don't just look, but touch and experience. There is a coffee-shop-type-lounge area where teachers can relax and parents can hang out. An underway renovation is becoming a monitored play room for kids, allowing mom a bit of "me time", as other siblings are in class. And to top it off…they own the building. That means they can pass the cost savings on to the community. Call today to reserve time for your student.

Phone: (469) 296-6007

Address: 117 West Broadway Street (across from Cotton Gin)  Prosper, Texas 75078    Website: www.texasampsandaxes.com     Email: info@texasampsandaxes.com

Hours: Monday – Thursday 3 p.m – 9 p.m.  |  Friday 3 p.m – 7 p.m.  |   Saturday 11:00 a.m. – 5 p.m.