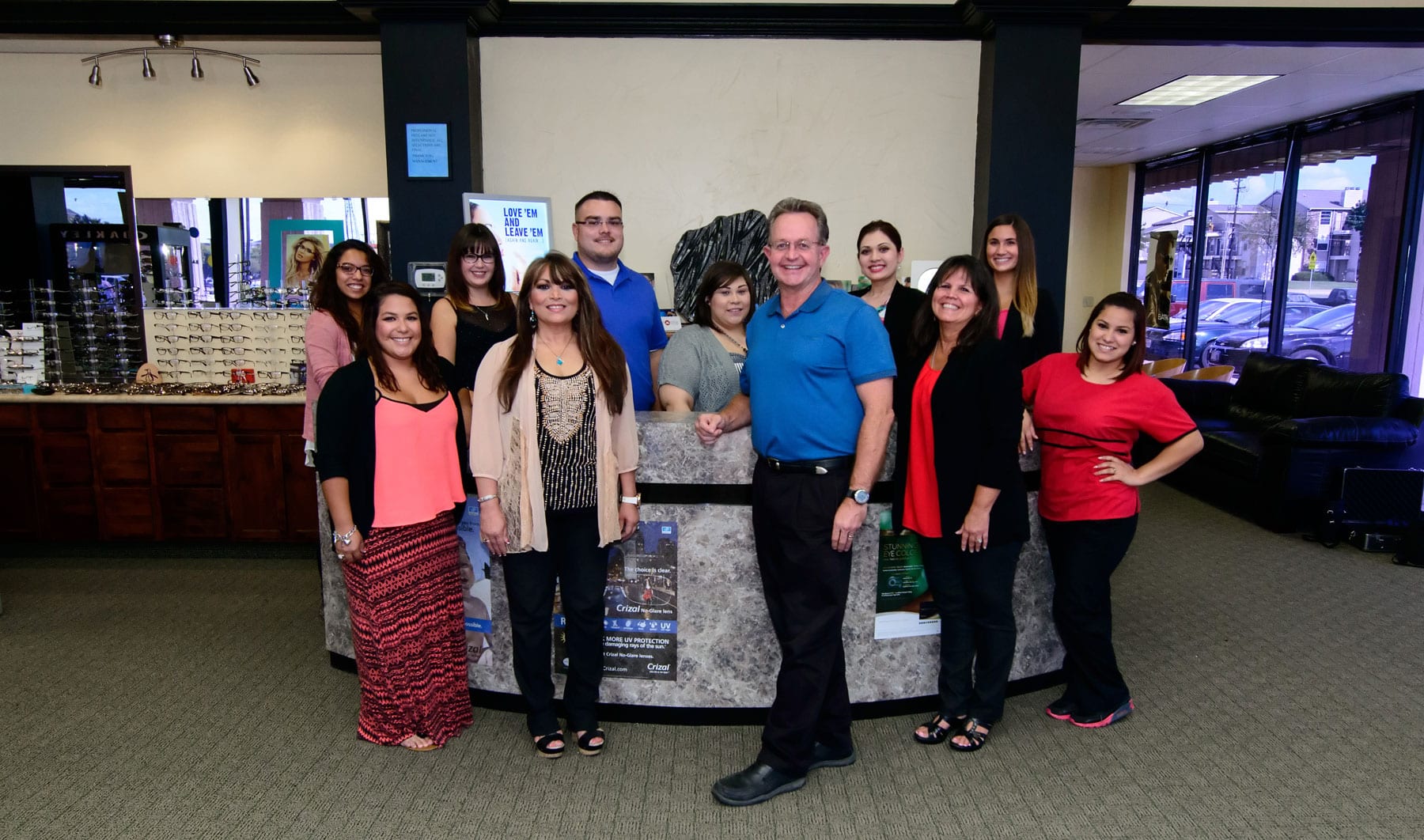 03 Oct

See Clearly Now

BY JAMIE ENGLE

Family eye care, "special" eyes and eye disease detection and treatment are the hallmarks of Dr. Rodney Robertson's eye care practice at Vision Source in Mesquite. After 24 years in Mesquite, Dr. Robertson recently moved to a new Mesquite location at the corner of N. Town East Blvd. and N. Galloway Ave.

State-of-the-art equipment provides full service eye care, including eye health evaluations for diabetics and fittings for specialty contact lenses.

The new location is home to one of the largest selections of eyewear in the metroplex,

"We feature many boutique brands not carried elsewhere, featuring lines from Fysh UK, Kate Spade, Gucci, Fendi and more," Dr. Robertson said. "We love to help our patients pick out the perfect frame for the perfect look."

Diabetic patients should have a dilated retinal examination each year. Diabetes often stimulates the growth of new blood vessels in the back of the eye, which ultimately leak and damage the retina. Diabetes is the leading cause of blindness in the U.S.

"If this condition is discovered early, laser treatment can destroy these vessels. Vision source uses the latest technology to detect changes in the back of the eye," Dr. Robertson notes.

Early intervention can save years of useful vision. Laser treatments have proven to slow the progression of retinal eye disease for many patients.

"This is not just a yearly eye exam. It is a complete diagnose- manage-and record of any possible eye diseases I may have," said Jerry B., one of Dr. Robertson's diabetic patients.

Vision Source is also at the forefront of dry eye treatment; including having one of only two Mibo Thermoflow machines in Texas (the second machine is at the University of Houston, Dr. Robertson's alma mater).

"We've had this cutting-edge technology for only a few months and we're really excited about it," Dr. Robertson said. "Over the years, we've brought a lot of people relief from dry eyes, and with this new equipment, we hope to help even more people."

Dr. Robertson is known for fitting specialty contact lenses, especially for people with extremely high astigmatism, irregular corneas, post-refractive surgery cases, keratoconus, and those desiring bifocal and trifocal contact lenses.

"We are pleased to offer the new SynergEyes Hybrid Contact Lens, which delivers the crisp vision of a rigid lens plus the all- day comfort of a soft lens. They have special designs for keratoconus as well as those whose previous LASIK or RK refractive surgery is no longer providing adequate vision," Dr. Robertson said.

Patients like Amanda, W. have been going to Dr. Robertson for years because of the service, and focus on early diagnosis and treatment.

"I am very satisfied with Dr. Robertson. Their office has taken care of my family for years now and I would not trust anyone else with our vision," Amanda said. "With the delicate condition of my husband's vision, Dr. Robertson has diagnosed and treated him, giving him a chance to continue taking care of his family, which is priceless to more people than Dr. Robertson will ever know. Thanks so much and God bless."

Patients are very pleased with the new office location in Mesquite, appreciating the larger space – and the great customer service.

"The team at Vision Source is phenomenal! Dr. Robertson is very kind and is great at what he does. He caught my glaucoma early and prevented more vision loss. The staff is equally great and knowledgeable and very kind. There is hardly any wait and the new office space looks great! I recommend them to everyone!" said Ashley S.

Combine their eyewear selection with state-of-the-art diagnostic and examination equipment and outstanding customer service, Vision Source is your one-stop family eye care center.

Vision Source is located at 1220 N. Town East Blvd. Ste. 220 in Mesquite (75150), at the corner of N. Town East Blvd. and N. Galloway Ave. Contact them at 972.613.3937 (EYES) and visit their website at www.visionsource-mesquite.com. Check yearly – see clearly!