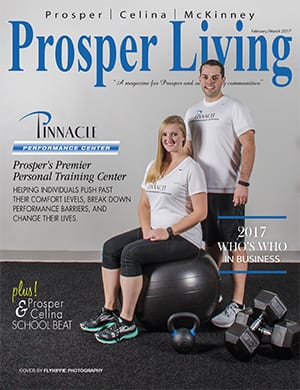 17 Feb

PROSPER'S PREMIER PERSONAL TRAINING CENTER BY KAREN THOMAS

Happy 2017!

Losing weight and getting fit rank at the top of the resolutions list year after year, yet the majority of people fail to maintain that goal. While being healthy may be an easier resolution to make than it is to keep, it doesn't mean you can't be successful. You just need the right motivation.

While still in the early days of the New Year, many people have already given up on their healthy new goals and reverted back to old habits. Bryan Webb, owner of Pinnacle Performance Center in Prosper, can help you cross the 'get fit/lose weight/be healthy resolution' off your list permanently.

"We believe fitness is best achieved by creating a balance of challenging workouts, proper nutrition, and healthy lifestyle factors," Bryan says.

Bryan's passion lies in seeing people achieve their goals and change their lives through fitness. He is devoted to helping people overcome obstacles they once thought impossible, and he believes anyone can improve their health and performance as long as they are willing to push themselves to excel.

Bryan adds, "I earned my Bachelors of Science degree in Kinesiology from the University of North Texas, as well as two specialty certifications from the National Academy of Sports Medicine: Performance Enhancement, and Corrective Exercise."

Bryan also states, "I have nearly ten years of personal training experience. During that time I've worked with kids as young as eight years old just starting out in sports to people in their 80s whose goal was simply to be able to go for a walk without being out of breath. I've also trained athletes at every level of competition – from high school to college, professional, and even Olympic-level athletes."

With that experience, energy, and passion to make a difference in people's lives, it just seemed natural to open his own fitness center. That dream came true with the grand opening of Pinnacle Performance Center in October, 2016.

Bryan shares, "I grew up a native Texan and attended UNT, which is where I met and fell in love with my beautiful wife Miranda.  Prosper isn't our hometown, but we are so grateful to be a part of a community where the people are so welcoming and hospitable. I look forward to Prosper's bright future as it continues to grow; I sincerely hope to be here for many years to come."

When deciding to open a fitness center, Bryan explains, "I wanted to create a one-of-a-kind personal training experience. Pinnacle Performance Center is not your stereotypical gym! We function as a private personal training studio specializing in strength and conditioning, weight loss, nutritional coaching, sport-specific training, and mobility enhancement. Each time our clients come in they receive an unparalleled experience working with our elite trainers in their very own training suite. This means our clients never have to worry about distractions, someone stealing their equipment, or feeling awkward inside the gym."

Bryan continues, "We get results by focusing on the individual and motivating our clients to achieve their maximum potential through fun, engaging 45-minute workouts. We do this through one-on-one, couples, and small group personal training sessions."

While Pinnacle Performance Center has been sought out by some high-profile professional athletes, Bryan enthusiastically says that anyone is welcome.

"Pinnacle Performance Center was founded on the idea that you don't necessarily need to be an athlete to train like one. It is our belief that every person is a unique individual, and should be treated as such. We are passionate about improving human performance and we love helping our clients overcome obstacles they once thought impossible. Whether you are an elite athlete looking for a competitive edge, or just beginning your fitness journey, we are truly committed to delivering a training

experience that's unlike anything you've seen before."

While Pinnacle Performance Center specializes in personal training, Bryan clarifies, "We do not travel to people's homes because our facility is already set up to provide a private, one-on-one experience for our clients. We have several different purchase options to fit every budget, and they run from single sessions to our unlimited, monthly performance pass. One of the other benefits of training with us is that our clients never have to pay initiation fees, or monthly membership fees. We only charge for your sessions with your personal trainer. Prices vary depending on how many sessions are purchased. "

Bryan concludes by saying "We are appointment based, but people are always welcome to drop in for a tour of the facility.  In fact, when you come in and mention Prosper Living, you'll receive your first 3 sessions absolutely free!"

For more information

visit our website:

www.pinnalceperformancecenter.com.