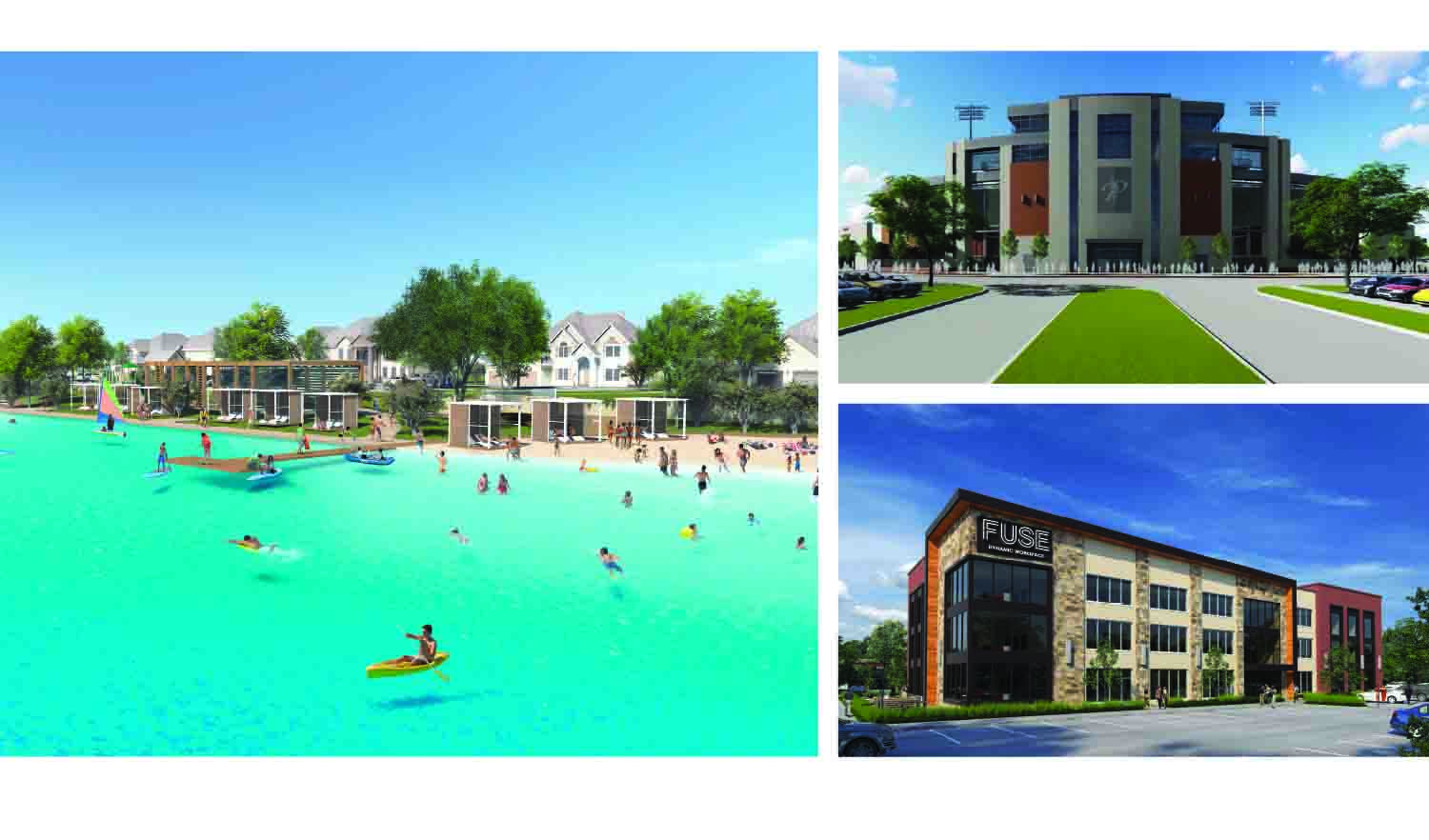 13 Dec

PROSPER IS ON THE GROW BY DEBORAH DOVE

The end of 2017 and 2018 will bring exciting new businesses, office space, and amenities to Prosper.

The Class A, three-story, 41,000-square-foot FUSE building will open in March, and will provide additional, much needed office space in Prosper.  The Prosper Economic Development Corporation will be a tenant there, as will FUSE—a new business concept launched by DPG building developer Mike Daugherty and his wife Tamara.  FUSE will offer furnished dedicated office space, meeting spaces, and coworking—a membership model concept where independent professionals and those with workplace flexibility have a place to work with a community of like-minded professionals in a café-type environment, which will provide opportunities to meet each other, forge business relationships, and cultivate a culture of community.

Across the street The Texas Bank building at First and Preston is scheduled to be completed on Christmas Eve and will be the Prosper headquarters of Texas Bank, which will occupy the majority of the first floor.  The remaining space in the three-story building will be leased.  This building, along with the new DPG building across the street, will be the first Class A office building north of Highway 380 in Collin County, and will be significant in providing businesses with grandiose, first-class office space at a fraction of the cost of similar buildings south of 380.  "The office building will allow the face of businesses to be presented in keeping with a Dallas space, but with that small town Prosper feel," says Jerrod Simmons, a partner at Biel Partners who is leasing the building.

Construction will also begin this winter on a five-acre crystal clear lagoon in Windsong Ranch, which will create a beach-style  lifestyle within the residential community with vacation-style watersports such as stand-up paddle boarding, wind-surfing, sailing, diving, kayaking and swimming every day.  "We believe the crystal-clear lagoon and its tremendous social appeal will create additional interest from homebuyers and bring significant value to our residents," says Craig Martin, founding partner of Terra Verde Group.  The lagoon will use 100 times fewer chemicals than a traditional swimming pool and consume only 2 percent of the energy required by traditional pool filtration systems, making it environmentally friendly.  The lagoon—the first of its kind in primary residential community in North Dallas—is projected to be finished in Spring of 2019.

Prosper residents will get a new stadium and natatorium complex that will be located on the north side of Frontier Park west of Prosper High School.  The 12,000-capacity stadium will serve all PISD schools moving forward, and will have a community room on the north end zone for hosting groups of up to 400.  The 500-seat natatorium equipped for swimming and diving will serve multiple high schools and will be Prosper ISD's first facility of this kind. There will also be a master-planned park which allows for shared parking and infrastructure with the Town of Prosper.  Construction on both facilities will begin in a few short months and will open at the beginning of the 2019 school year, with a second high school opening a year later in 2020.