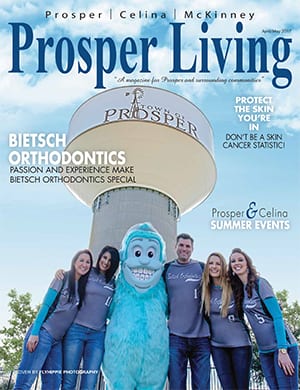 14 Apr

Passion and Experience Make Bietsch Orthodontics Special BY JAMIE ENGLE

From a very young age, some people know what they want to be when they grow up: it's a calling. That's how it is for Prosper's Dr. Thomas Bietsch of Bietsch Orthodontics.

"When I was growing up, my neighbor was an orthodontist and I saw how he loved his job and how it changed lives. It really inspired me," Dr. Bietsch said.

Almost 18 years and well over 7,000 patients later, Dr. Bietsch loves orthodontics as much as ever.

There are patients who never smiled before treatment because of this factor of embarrassment that they had from having crooked teeth. As treatment progresses, there is this transformation – they have more confidence and smile more. For Dr. Bietsch, it's a joy to see and extremely rewarding. He feels blessed to be able to use his hands every day to help people enjoy life more fully.

In honor of the neighbor that inspired him, Dr. Bietsch opens his office to children and students, hoping to inspire them and show them how life-changing being an orthodontist can be. His passion for orthodontics makes him an engaging speaker at career day in the local schools.

Also making a giant impact at the schools is the newest member of Dr. Bietsch's team. "Espin" is seven-feet of furry blue softness who wears his hat backwards and has braces. Created by the same company that designs many of the Disney mascots, Espin loves to go to the schools, and kids love him. Espin also enjoys performing random acts of kindness around town, like handing out hot coffee on a cold day.

"Espin's been a fun addition to the team," Dr. Bietsch said. "I love seeing how the children respond to him."

Just as important as being involved in children's education is Dr. Bietsch's dedication to being a lifelong learner, especially in oral healthcare. Every month, he participates in professional continuing education events, including seminars, conferences and a study club.

"Orthodontics is an evolving field," he said. "New techniques and treatments are being developed all the time. There's always something new to learn. It's important to be on the leading edge of the latest developments and apply that knowledge for your patients."

Study club members represent different specialties, including general dentistry, contributing many viewpoints and experiences to the discussions. Together, they discuss the latest advances and techniques, treatment plans and cases, learning from one another. Members also share information from the many seminars and conferences offered by dental schools, professional dental associations and oral healthcare manufacturers.

Patients reap the benefits of Dr. Bietsch's continuing education and professional networking.

"Each treatment plan is custom to their specific needs to get their best outcome," he explained. "We look at every aspect, such as aesthetics, function, bite and stability, and then apply the techniques that produce the best results."
And then, the transformation begins.

"It's a gift to be able to help change people's lives," Dr. Bietsch said. "We are glad to offer our services to this great community."

For more information or to schedule an appointment call 972-347-2222 or visit our website at www.prosperorthodontists.com. We are located in Prosper, TX at 221 N. Preston Rd., Suite #A.