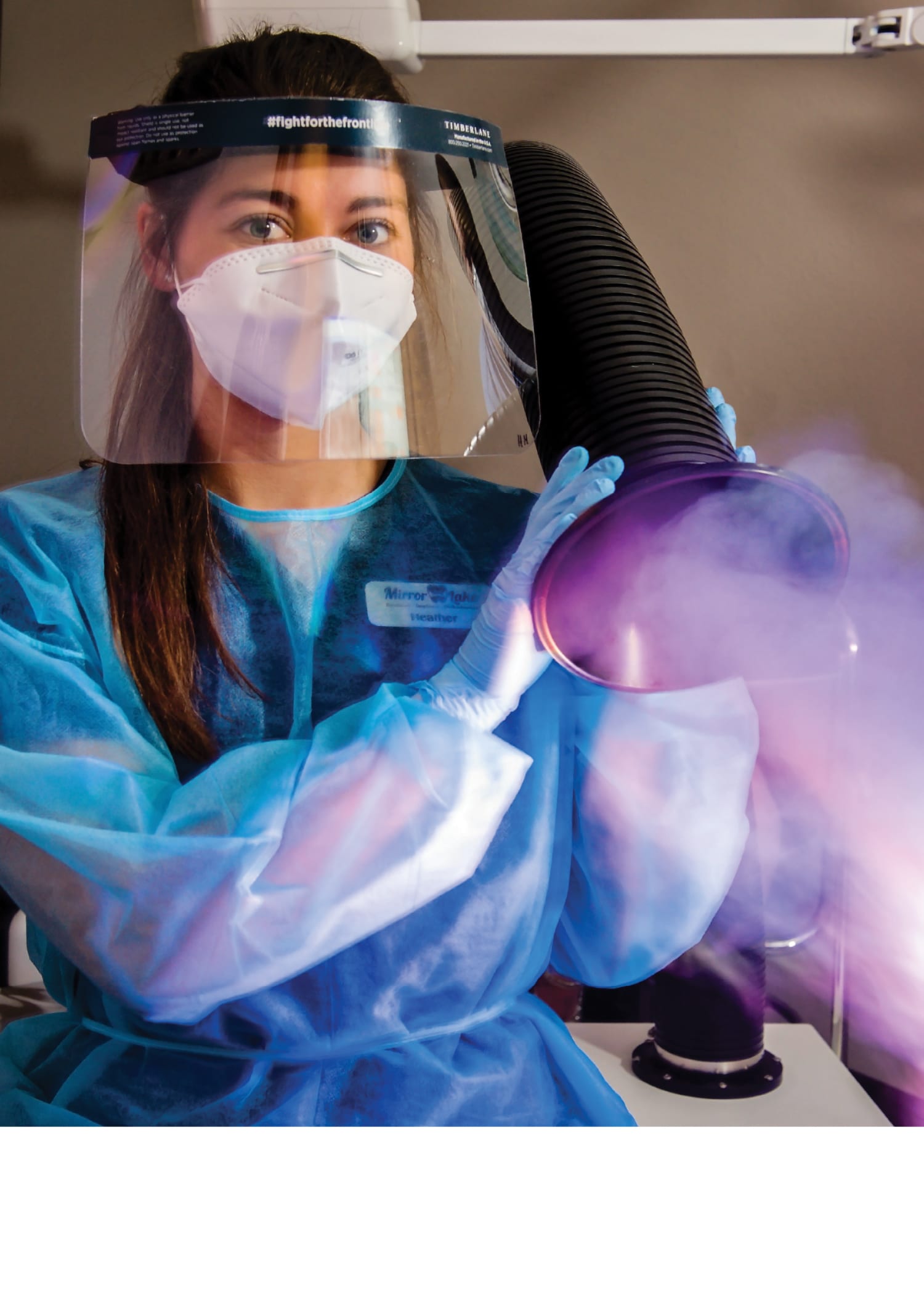 12 Jul

MIRROR LAKE DENTISTRY'S NOVEL APPROACH TO THE NOVEL CORONOVIRUS BY DEBORAH DOVE

As COVID-19 took the world by storm, shutting down businesses and compelling people to stay home to minimize the risk of spreading the virus, Dr. Eric Francom spent his time in quarantine proactively working on a solution.  His resulting invention—an aerosol containment unit which he created and patented—is specifically designed to keep dental patients safe during cleanings and procedures. The clear plexiglass box, which fits over the patient's head with a modified aerosol suction hose and filter, eliminates all aerosol spray, a primary concern in the spread of viruses.

Dr. Francom worked with a manufacturer to create a prototype which he and his brother, an ears/nose/throat surgeon, have presented along with recent findings and safety precautions to over 4,000 dentists and physicians across the world.  They, along with Dr. Francom and his staff at all four Mirror Lake dental offices, have been beta testing it and getting feedback.  "We've gotten nothing but positive responses from both doctors and patients," Dr. Francom says, adding that even his five-year-old daughter approved since it allowed her to still watch TV during the treatment.

"It's definitely one of many options we have to keep patients and team members safe while meeting their needs, and is perfect for any patient concerned about COVID-19, as well as those who are high risk," he says.

Extra Precautions During Uncertain Times

In addition to Dr. Francom's groundbreaking invention that provides dental patients with a virtually aerosol-free experience, all offices in the Mirror Lake Dentistry family—which includes locations in Forney, Seagoville, Heath, and Heartland—are taking added precautions for the safety of their patients, team, and family members.  Like most dental practices, Mirror Lake Dentistry was already following the highest standards and protocols of cleanliness and sterilization"universal precautions."

"By treating everyone with the highest standards of cleanliness, we know we are keeping our patients and community completely safe," says Dr. Francom.

Before the novel coronavirus even existed, Mirror Lake Dentistry was already wiping down all surfaces with disinfectant between patients, including light switch plates and keyboard covers, wearing gloves, masks and protective eyewear, and properly disposing of disposables.  "This isn't new.  We've always run a tight ship," he says.

There's Never Been a More Important Time to See the Dentist

While many people are understandably reluctant to resume some of their usual activities, it is very important that we all continue to see our dentist.  Not only is the dentist office one of the safest and cleanest places to be, seeing the dentist has never been more critical to your health and well-being.

Ninety-five percent of all diseases have a connection with oral cavity.  In fact, there's a higher correlation between heart disease and periodontal disease than there is between high cholesterol and heart disease.  "The people most susceptible to coronavirus are the ones who need their cleanings the most, because periodontal disease, bacteria and infection exacerbate or create underlying conditions," says Dr. Francom.

While people sometimes think of dentistry as being elective, a dentist is the doctor most people see the most frequently, and there's a reason for that, according to Dr. Francom.  "The mouth is the gateway to the body, and it is critical to keeping the whole body healthy," he says. Even orthodontics promote a healthier mouth by correcting crowded teeth, which harbor bacteria.

"There's no need to wait or put that off," Dr. Francom says.  "People shouldn't be scared to come to the office."  He adds that preventing problems is essential not only for those with underlying conditions predisposed to COVID-19, but for all patients. Studies show that people who see a dentist regularly spend less money and less time at the dentist, proving the old adage "an ounce of prevention is worth a pound of cure."

Mirror Lake Dentistry is open and back to doing what they do best—giving their patients the best possible experience. "We're open and here to do what we do—prevent and correct problems," says Dr. Francom.  Mirror Lake Dentistry's services include routine cleanings, dental implants, orthodontics, root canals, crowns and bridges, dentures, sleep apnea treatment and more.  Mirror Lake also treats children, and offers sedation for a more pleasant experience.

"We spend a lot of time making the dream dental practice we want to go to ourselves…where you don't have to wait longer than necessary, where people are as comfortable as possible, and you're treated like family," says Dr. Francom.

Mirror Lake Dentistry has added or continued the following measures to ensure the safety of everyone:
A staff member calls patients the day before their appointment to make sure no one comes into the office with any symptoms of illness.
Patients stay in their car and call the office to "check in" upon arrival.
Each patient's temperature is taken before their appointment with a touchless infrared thermometer to ensure they're healthy before coming into the office.
Dentists and hygienists wear face shields, gowns, and N95 masks.
Virucidal cleaners are used between every patient.
Mirror Lake Dentistry
845 N. FM 548, Suite 150 | Forney, TX 75126 | (972) 200-1190
1629 Smirl Dr, Suite 101 | Heath, TX 75032 | (972) 837-6057
2049 Sunnybrook Drive | Heartland, TX 75126 | (972) 200-4311
605 Avalon Drive | Seagoville, TX 75159 | (972) 287-5513
MirrorLakeDentistry.com