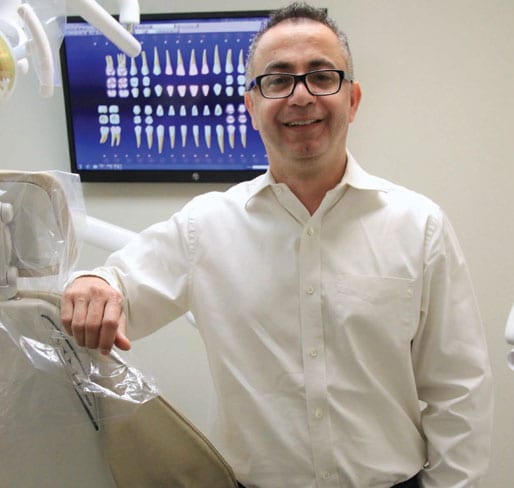 29 Sep

Look What's New at Little Elm Dental Care!

BY ELIZABETH HAYNES
PHOTOGRAPHY BY RICK VERGARA

Little Elm Dental Care has been proudly serving the Little Elm community for over eight years, providing general and family dentistry to patients of all ages. But now there's something new happening at the office! We're excited to welcome Dr. Yaser S. Hamdan, D.D.S., M.S.D. to the Little Elm community and to our special dental practice.

Dr. Hamdan has been a longtime resident of Chicago, Illinois and spent six years working in one of the best dental offices in downtown Chicago. His dental training began at the Carolina University School of Dentistry in Prague, where he received a scholarship and studied for six years. After obtaining his Jordanian Dental Licensure and establishing his own practice in his home of Jordan, he came to the United States to complete his residency at the Indiana University School of Dentistry. He achieved both his Master in Operative Dentistry and his American D.D.S. from the school, and is now a licensed General & Cosmetic Dentist. He is also board certified in Operative Dentistry.

Dr. Hamdan works hard to create a positive experience for patients and believes in taking time out to discuss preventative care and to fully explain treatment options. He and his staff are dedicated to getting to know their patients as individuals, helping provide better care as well as remove some of the stress that comes with visiting a dentist.

"I want to create a good experience for patients." Says Dr. Hamdan. "I'm honest and straightforward about treatments because to me, knowledge is number one. It brings patients a lot of comfort at the end of the day."

His office offers a wide range of services for the entire family including preventative care, cleanings, fillings, crowns, pediatric dentistry, and all types of cosmetic dentistry. In fact, cosmetic dentistry is one of his specialty areas.

"I believe dentistry is an art." He says. "I like to work with my patients so they can achieve and maintain a beautiful smile and healthier gums."

If you're looking for a dentist for yourself or your family, stop by the office to meet Dr. Hamdan and welcome him to the community. He is proud to call Texas his new home and plans on becoming a permanent resident of the area.

Dr. Hamdan is an active member of the American Academy of Cosmetic Dentistry, the American Dental Association, and the Indiana Dental Association. In 2005-2006 he was awarded one of America's Top Ten Dentists by the Consumer Research Council of America. He has been practicing dentistry for over 20 years and has a deep dedication to his practice and to the people he serves.

"We want to make visiting the dentist as simple and easy as possible for the patient." Says Dr. Hamdan. "That means as fast as possible, as fun as possible, and as inexpensive as possible."

Little Elm Dental Care accepts most PPO insurance plans as well as the Careington 500 Discount Plan and CareCredit. They also accept cash, checks, and all major credit cards. The office is open Monday through Friday with some early morning and late evening appointments available, as well as occasional Saturdays, to better help patients fit healthy smiles into their busy schedules.

For more information or to schedule an appointment, call 972-292-3820 or visit www.littleelmdentalcare.com.