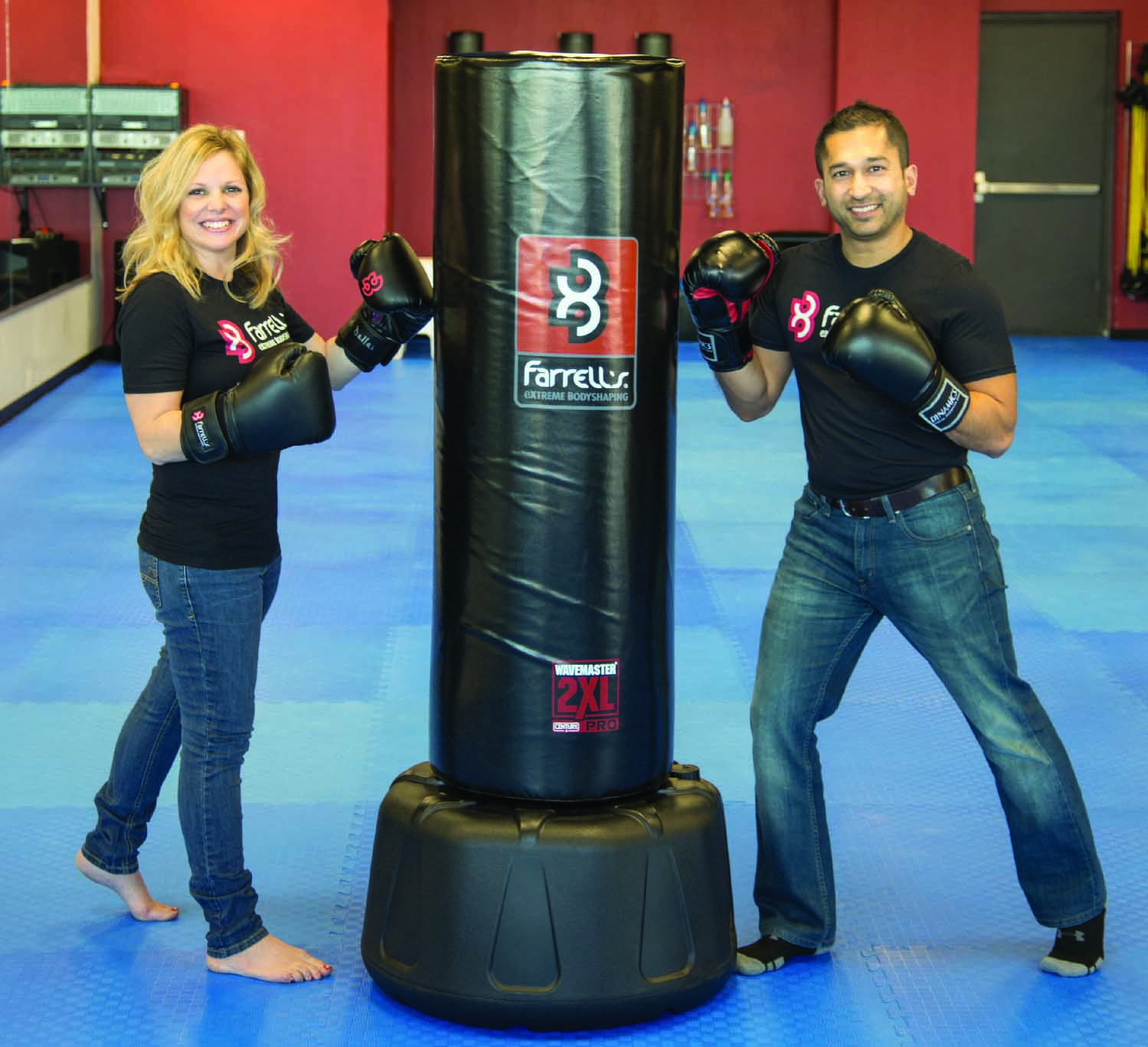 11 Feb

Live with Power AND PURPOSE BY WENDI CARTWRIGHT PHOTO BY PITTMAN PHOTOGRAPHY

Welcome to 2016. As we begin a new year, many people are compelled to make New Year resolutions and promises of a healthier way of living. Webster defines resolution as a "formal expression of opinion or intention." What if this year, we didn't make resolutions? What if we turned those "intentions" into "goals" for ourselves instead? Goals that actually are attainable and had accountability built into them?

If you are ready to make a change in your overall health and fitness, and you need a little guidance to help reach your goals, consider Farrell's eXtreme Bodyshaping in Little Elm. Open since July 2015, owners Mustaali and Shannon Carbaidwala have introduced the residents of Little Elm to a new world of fitness. "Our mission is simple: We want to inspire people to live their lives with power and purpose," says Mustaali.

Farrell's eXtreme Bodyshaping is a results-based fitness program for participants of any age, lifestyle, gender or athletic ability. The program was developed by Lance Farrell, a long-time taekwondo competitor and teacher, specifically to combat obesity and to help people develop healthy lifestyle habits. Participants sign up for a 10-week fitness challenge, consisting of four essential elements that are needed for long-term changes in health and body shape: cardiovascular exercise to burn fat; strength training to build muscle; a nutrition plan to help you eat healthy; and coaches to keep you motivated and encouraged throughout your journey. For 45 minutes, six days a week, you are continually hitting milestones that will ultimately lead you to your goal of better health.

Aside from feeling and looking better, the challenge also has another benefit – a $1,000 reward. Before and after pictures are taken, and each participant is given a fitness evaluation at the beginning, the middle and the end of the 10 weeks. The participant with the largest transformation (based on final fitness evaluation, attendance and the before/after picture) will win $1000. Who couldn't use a little motivational kick in the pants…and some cold hard cash?

Dedicating yourself to a 10-week journey can often be daunting, but with the guidance of your personal coach and the encouragement of your fellow participants, the challenge becomes less of a "what have I done?" moment to more of a "why didn't I do this sooner?" moment. The classes are suitable for all fitness levels. "No judgements are passed. Each person that comes in is greeted with the same level of respect," adds Mustaali. Although reasons may differ, everyone is on a similar journey, and the relationships created are real. You'll meet people who become friends for a lifetime.

With four time slots to choose from Monday through Friday, and three time slots on Saturday, finding the perfect time that works with your lifestyle has never been easier. Plus, the way the classes are built keeps boredom away! Over the course of the week, you'll have three days of kick boxing and three days strength training. The classes build upon each other, doing something different each day. Your coach walks with you each step of the way, teaching you things from what foods are best to eat…and the proper portion for maximum benefit, to how to wrap your hands and which gloves to use for class. You are never alone in your journey.

When deciding to purchase their Farrell's franchise, Mustaali and Shannon Carbaidwala thought of no place else than Little Elm. This is their home and they wanted to support the community that had been so good to them. Mustaali says, "We are extremely happy and blessed to be in Little Elm. The community has been so supportive and the word of mouth about Farrell's eXtreme Bodyshaping has been fantastic, causing our little center to grow incredibly." After only six months, Mustaali and Shannon are honored to have won the "2015 Community Partner of the Year" from the Little Elm Chamber of Commerce.

Make 2016 the best yet. Stick to your goals. Your health and happiness, and above all else – you, deserve it.