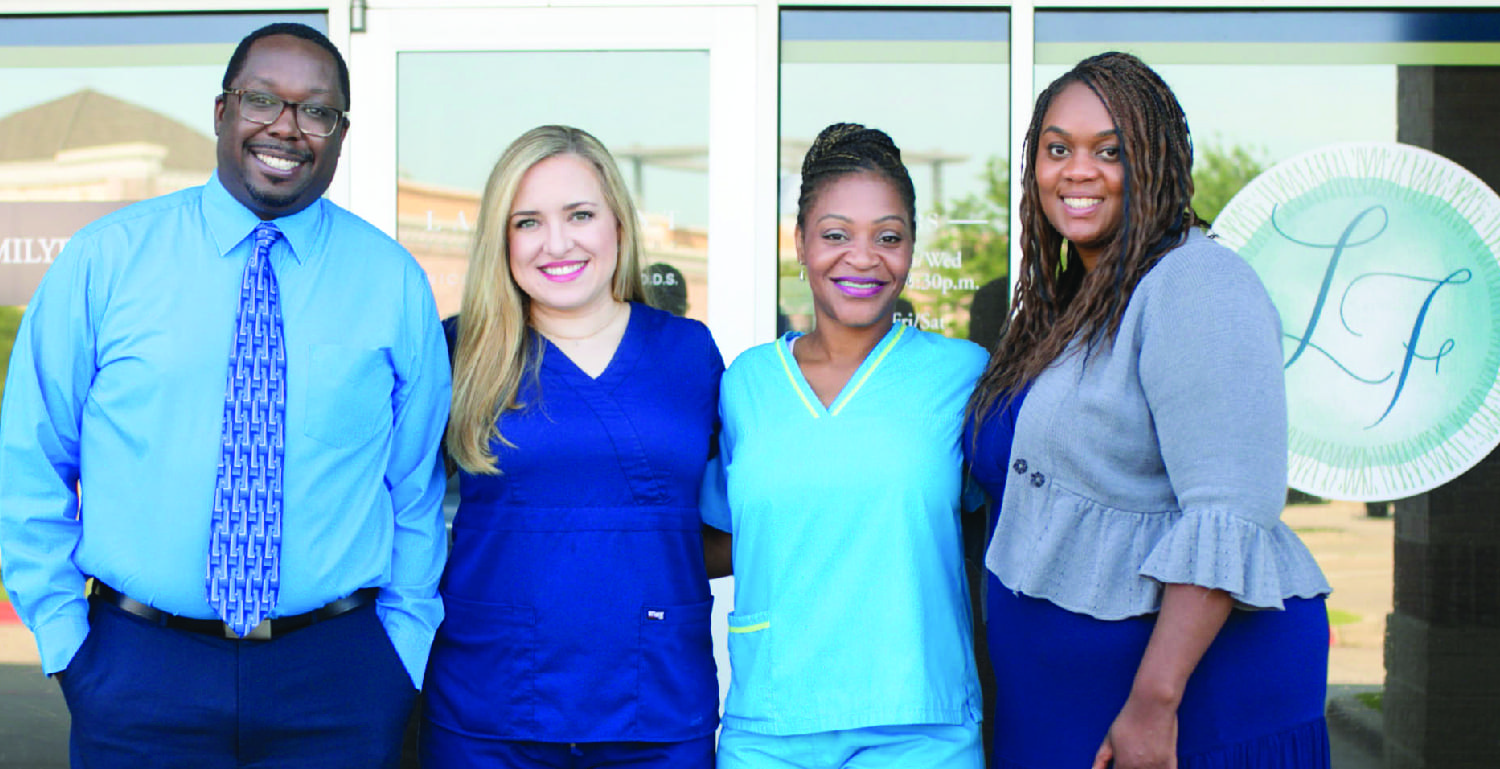 16 Oct

Lakefront Family Dentistry By Lisa Jenkins-Moore

Dr. Nicole Bellingham took ownership of Lakefront Family Dentistry one year ago. Prior to that, she served our Veterans at the VA Hospital in Dallas for over a decade. Having come from a military background with many of her family members in service, she realized the importance of giving back to those who are sometimes forgotten. "One of my grandfathers was a survivor of Pearl Harbor and another served under General Patton." Dr. Bellingham had considered a career in the military until love and marriage took her in a different direction. "Working at the VA provided me the opportunity to serve those who have served my country, and fulfilled a part of me that I cherish. I loved my patients, but had to leave because the long commute was hard on my family." Not surprisingly, many of her patients were so impressed with her care, that they now commute from Dallas to see her in Little Elm. She says, "I'm honored that they are willing to make the drive so I can remain their dentist."

Lakefront services patients of all ages, from birth to senior citizens. Dr. Bellingham's experience at the VA, gives her an edge many practitioners don't have. "I've seen unusual conditions that require creative solutions and complex treatment plans which gives me a fresh perspective beyond what is taught in dental school." Additionally, she meets monthly with other dentists as a member of the DFW Study Club to attend CE, discuss their experiences and share ideas with one another. "It's important to keep learning and I am dedicated to giving my patients the best treatment available." In that regard, Dr. Bellingham is trained to treat  sleep apnea issues, as she sees the growing need in that area in so many of her friends and patients.

Dr. Bellingham is a member of the Chamber of Commerce, and looks forward to becoming more active in the community. "I grew up in a small town like Little Elm, and I love how involved the community is here. I look forward to being an integral part of continuing that culture." Last February during Children's Dental Health Month, she and her team visited schools with an innovative idea to get children interested in dental hygiene. They attended a "Mystery Reader Event" which engaged elementary students in a fun adventure while teaching them the importance of caring for their teeth and gums.

Dr. Bellingham enjoys family time with her darling six year old son, now a first grader in Lewisville, who competes in Taekwondo. "Becoming a business owner at this phase of my life and career just fell into place at the right time." She loves the flexibility of her career and had her son in the office some days during the summer. "I have always known a career in dentistry can offer many women what they are looking for—a job they enjoy that provides the opportunity for family time as well. Now being a business owner I can be more present for my family. Being able to volunteer in my son's classroom and attend after school activities is priceless." She is thrilled to see more women entrepreneurs and business owners emerging in all industries and professions. She notes that in 2019 for the first time ever women make the majority of those enrolled in dental schools across the nation. "It is empowering to take something like a dental practice and mold it into my own, and to be able to care for my patients as I would want to be cared for." Dr. Nicole also loves the outdoors—paddle boarding and other water sports. She stays active in Camp Gladiator and also does Pilates.

Services include:
Sleep Apnea Solutions
Dentures
Extractions
Crowns & Bridges
Cosmetic Dentistry
Endodontic
And much more…
What patients are saying:
"The staff was incredibly pleasant and professional. Really nice group of people. Thanks for demonstrating such kindness when handling the patients!!"
"It had been a long time since I trusted a dentist to perform work on my teeth…Dr. Bellingham is truly Awesome! She has given me and my husband our smile back! Thank God for bringing her to Little Elm!!!"
"Dr. Bellingham is a very caring and gentle dentist. She made me feel at ease and answered all of my questions. I would highly recommend her."
"Lakefront is a totally new dental practice in comparison to the previous practice. My 11-year-old son is terrified of the dentist and gets super anxious. He had a cavity and Dr. Bellingham was so gentle that he left smiling and saying, "The dentist doesn't scare me anymore!" That was a win. We will both be making LFD our new dental care home."
Formerly known as Little Elm Dental Care, Lakefront Family Dentistry serves Little Elm, Texas and the surrounding areas. We offer comprehensive dentistry to patients of all different ages in a warm and welcoming environment. For a dental office you can trust to take care of all of your dental needs, make an appointment at Lakefront Family Dentistry today!
Lakefront Family Dentistry
800 W Eldorado Pkwy, Ste. 124
Little Elm, TX 75068
Monday-Tuesday-Wednesday 8:30 a.m. – 4:30 p.m.
Friday-Thursday Scheduling appointments only
*Hours subject to change
info@lakefrontfamilydentist.com
LakefrontFamilyDentist.Com
972-292-3820