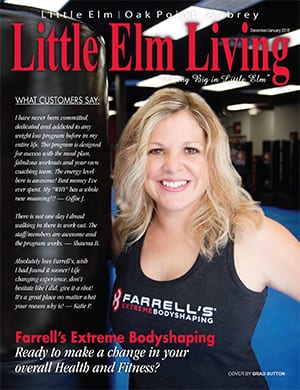 11 Dec

INSPIRING PEOPLE TO LIVE WITH POWER AND PURPOSE by Lisa Jenkins-Moore

While money, travel, romance, love, family, children, pets and more may come up in someone's must have list for happiness, everyone agrees that without good health, little else matters. And yet most of us focus our time and energy reacting to health

issues rather than taking a proactive position on achieving and maintaining good health. For some, it may be ignorance—they don't know how to eat right, exercise adequately, or develop a healthy lifestyle. For others, its lack of accountability or the commitment to a definitive start date. FARRELL'S EXTREME BODY SHAPING IS THE ANSWER.

Not just a trend, or the-latest-and-greatest body fix—Farrell's is a one-of-a-kind all-inclusive healthy lifestyle program. The life-changing ten week program incorporates the three fundamentals to every healthy lifestyle: 1) Cardio 2) Strength-training, and 3) Nutrition. Participants are assigned a personal coach that conducts a private beginning/mid/and ending assessment. Results are strictly confidential, but participants are encouraged by the dramatic differences seen in only a few short weeks. Classes are held six days a week, Monday-Saturday. Sunday is a free day, and what some refer to as a "fun" day. It is the one day a week fitness participants can indulge in their favorite food and drink and skip exercise without feeling guilty.

Mustaali Carbaidwala , the owner of Farrell's explains, "Your body can adjust to foods and exercise over time and your metabolism plateaus. A fun day not only satisfies our psychological need for indulgence, it offers a physical benefit as well by shocking the metabolism into burning quickly again." The other six days consist of healthy eating—participants my use a basic guide which includes a fistful of protein, a palm size amount of carbs and as many of the approved veggies they'd like to eat. Most choose their eating plan from this guide, but for those who want more help, a detailed meal-by-meal menu is provided.

THE TEN-WEEK FITNESS PROGRAM THROUGH FARRELL'S EXTREME BODY SHAPING IS HIGHLY EFFECTIVE.

Individuals learn how to live a healthy lifestyle, not in isolation, but in community. They get an opportunity to meet and get to know others with similar struggles and fitness goals and enjoy accountability not only with their fitness coach, but with those taking the same journey. The ten week course is offered four times a year and start dates are set. Groups start and finish together; the program closes with an awards banquet to honor participants and awards one lucky person with a $1000 check for most improved.

Unlike many programs, Farrell's 10-week fitness challenge boasts a high retention rate. Most who begin, finish, and 90% of challenge participants continue with Farrell's as FIT members not only to take advantage of the great classes, but to remain in the community. One member drives an hour and a half one way each day for the program as she was familiar with the fantastic results from her previous enrollment in another state.

INSPRIRING PEOPLE TO LIVE WITH POWER & PURPOSE

BY LISA JENKINS-MOORE

Mustaali and his wife, Shannon, have witnessed amazing things in the last two years since the location in Little Elm opened. He says, "The community has been so supportive! People are getting results and telling their friends. This location had the highest first-year sales of any other franchise." Sales are great but Mustaali and Shannon are most excited about changing lives for the better, not only through their organization but through service efforts in the community. They have joined with their members in fundraising efforts to meet the needs in their community, to help those within the program, and to help others in need (like the recent victims of Hurricane Harvey).

Their new location in Frisco will open in just a few weeks. It is a larger facility than the one at Little Elm, with top notch equipment, modern updates, large changing areas and much more. Pre-enrollment has already started for the next 10-week challenge which begins at both locations on January 6th. Interested parties are encouraged to call now to receive discounted pricing, as classes fill up quickly and discounts disappear closer to start dates.

THE 10-WEEK CHALLENGE INCLUDES:
Before, During, and Final Assessments (Fitness & Body Composition)
Student Manual
Daily Menu & Meal Guides
Personal Coaching
Community & Accountability
On-line Resource
60 Instructor-Led Classes
Custom Farrell's Boxing Gloves and Wrist Wraps in a FXB Bag
And Much More (all for less per day than your favorite lunch combo)
FARRELL'S PROGRAM:
Kickboxing classes, derived from martial arts, are high-intensity cardio workouts that burn fat and build endurance while offering variety and fun.
Strength training is essential to building lean muscle and burning fat and calories – in motion and at rest.
We provide resources and information to fuel your body for peak performance on and off the mats. From carbohydrate and protein intake based on your body measurements, to simple meal     plans, healthy eating is essential to your success.
Our certified instructors are trained to keep you safe, while motivating you to reach excellence.
Our coaches provide one-on-one support to encourage, motivate, and guide you through the program.
Joining Farrell's, is like joining family. Farrell's members are supportive, helping each other attain their fitness and life goals.
One participant from each challenge takes home $1000 for greatest transformation!
SOME REVIEWS:
This program has it all… Nutrition planning, Strength training, Cardio, and most importantly Support! Walking in the doors you are handed all the tools to be successful in starting a journey to optimal physical health; it could not be an easier plan. Don't get me wrong it is hard work, very hard work, but the method is easy to follow and everyone from coaches, instructors, and other members are willing to help every step of the way. This isn't just a fitness program it is a way of life and a community to support that.  — Lacey L.
I highly recommend Farrell's. The 10-week program is simply amazing. I am 7 weeks in and have lost inches, body fat, and gained tremendous strength and confidence. The entire team of trainers, coaches, and members are incredibly encouraging and uplifting. I recommend this as a great program, regardless of your current level of fitness. Plus, with the nutrition advice and counseling, my grocery bill has dropped enough for the program to pay for itself!  — Allison B.
(214) 223-5797
850 West Eldorado Parkway, Suite 500  Little Elm, TX 75068
extremebodyshaping.com