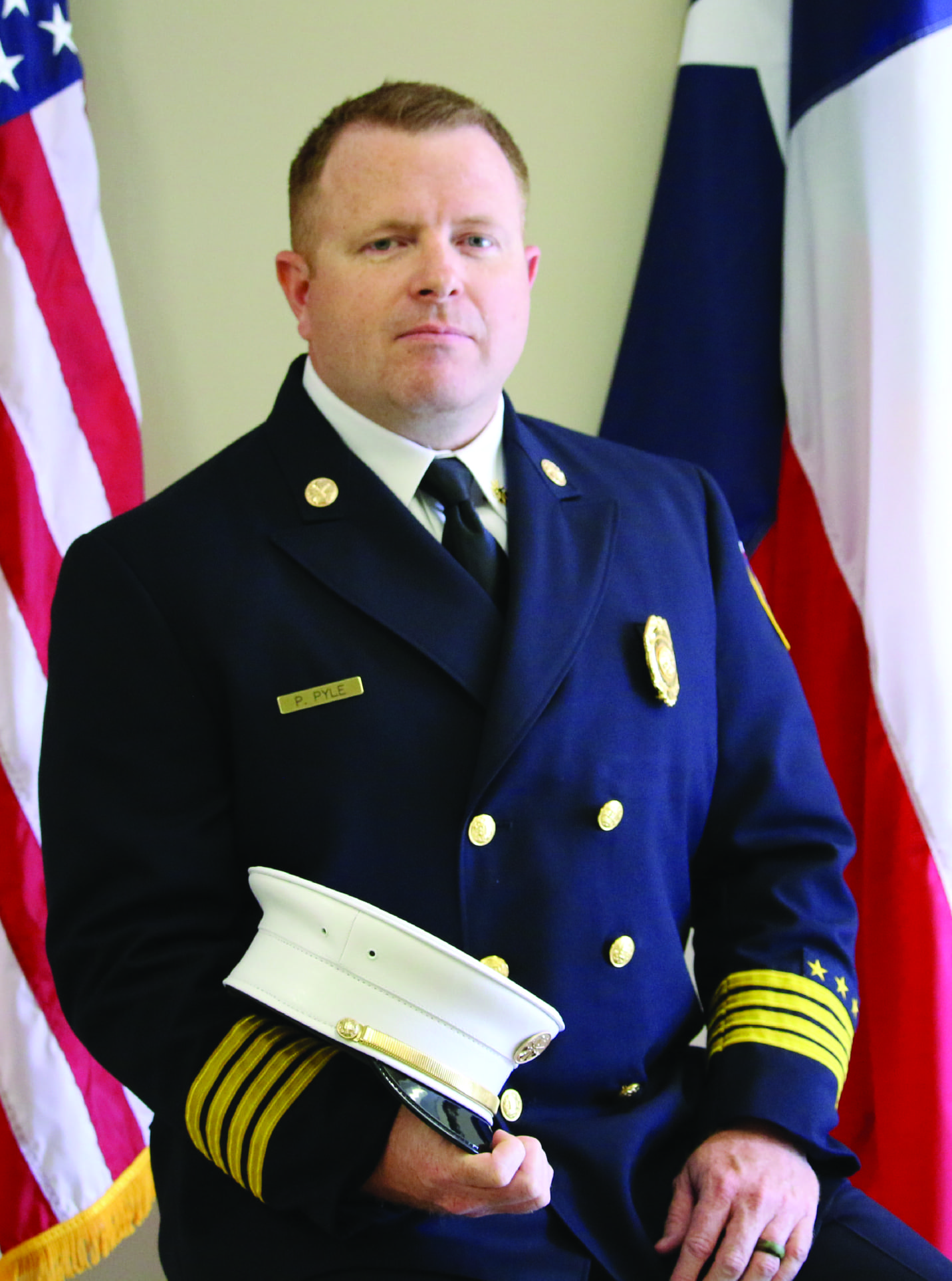 10 Sep

HOMETOWN HERO SPOTLIGHT: FORNEY ASSISTANT FIRE CHIEF PHILLIP PYLE BY LISA JENKINS-MOORE

It's easy to take for granted the incredible emergency response teams we have available to us by simply pressing "911." Scores of individuals commit their lives to helping others by answering phones, dispatching services, monitoring our streets, putting out fires, rushing victims to hospitals, and much, much more.

Phillip Pyle, assistant fire chief at Forney Fire Department knows these folks well. At only four years of age, he watched in awe as his dad volunteered for the same department he now works for. Every Saturday Phillip would accompany his father to the station. It was something he always looked forward to and the draw to follow in his father's footsteps began at a young age.

Chief Pyle began volunteering in 2001, and ended up being the very first paid firefighter for the city of Forney shortly thereafter. He loves being a first responder and says, "I like helping people through crisis and making a difference in my community." The department averages 12-15 calls per day and approximately 85% of those calls are medical emergencies. A typical day in the fire station involves equipment checks, inspections, and pre-planning so the team is always ready for what may come. The majority of the Forney Fire Department not only lives in Forney, but grew up there.

Chief Pyle finds some humor in the job at times, like the call they received regarding a skunk that got its head stuck in a resident's lattice. There have also been frightening experiences as well. He recalls the grassfire that broke out near the high school: "A wall of fire was nearing me and had another team member not alerted me, it would have consumed me. It was a scary moment." In most cases, Pyle explains that the adrenaline overcomes the fear and everyone performs their job exactly as they've been trained to do. He is grateful that he's never been injured on the job.

Every summer Chief Pyle teaches at Texas A&M Fire Academy, and every October the fire department educates elementary students on the importance of fire prevention. He is passionate about his work and credits family support for helping him achieve his dream job. Chief Pyle says, "Great co-workers make my job easy."

When not at work, Chief Pyle enjoys woodworking, traveling, and fishing at Lake Fork. His wife, Emily, is an attorney and also a long-time resident of Forney. They dated for years and have been married for seven. Emily's mom is a retired Forney ISD school teacher, so the entire family has a rich heritage in Forney. Chief Pyle really is a "Hometown Hero" and we are all very grateful for his service.