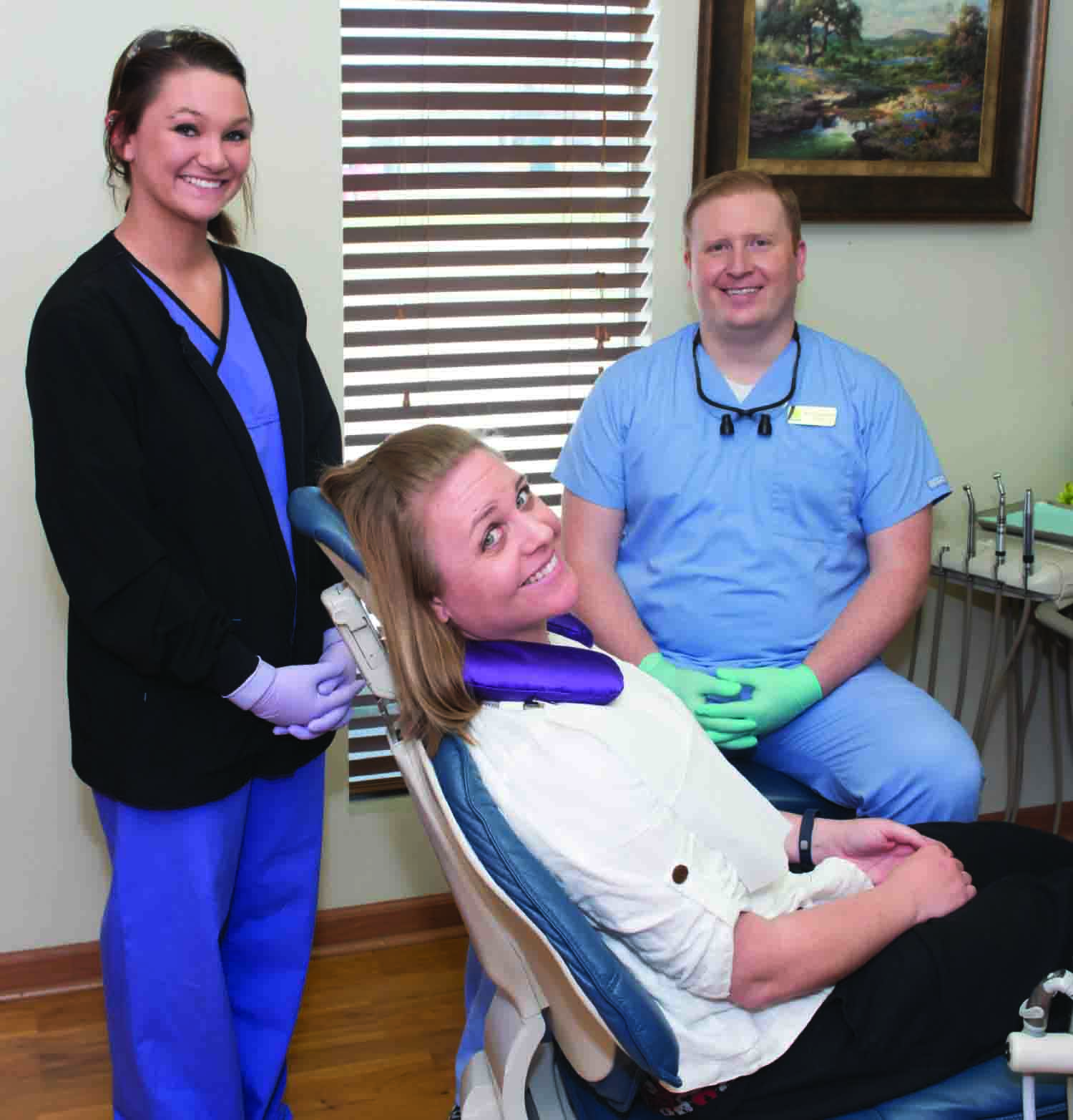 08 Apr

HIGH TECH DENTISTRY, HOME TOWN FEEL BY WENDI CARTWRIGHT

Let's face it…going to the dentist is probably not on anyone's top ten list of favorite things to do, however Dr. Eric Francom at Seagoville Dental has made it his mission to alleviate many of the stressors that people face when it comes to dentists and dental work. He accomplishes this by ensuring his office offers two important things to patients: the highest level of technology available and a genuine care for each person.

Dr. Francom and his wife, Shannon, have called Forney home for the last two years. A graduate of Midwestern University College of Dental Medicine in Glendale, Arizona, Dr. Francom says, "We came to Texas as fast as we could." The addition of baby Julia graced their family last year, solidifying herself and her parents as proud Texans.

After working with long-time Seagoville dentist, Dr. English, who had served the community for 35 years, Francom took over the practice when Dr. English retired. With big shoes to fill, Dr. Francom updated the existing technology. This investment of new hi-tech equipment, allows patients to reap many benefits: less time in the chair, fewer visits to the dentist, less pain and a more comforting experience.  "We  want  everyone  that comes in the door to feel  like  they  are a part of our Seagoville Dental family.  Each  patient is be treated with respect…and our staff ensures the most comfortable experience possible," says Dr. Francom.

For most, the words "dentist" and "comfortable experience" go together like oil and water. Dr. Francom's desire is to make each and every visit as  painless as  possible. Treatments that once took several visits to complete are now completed in one visit. Dental phobias are recognized and treated with compassion. A licensed massage therapist is available to help decrease dental stress by offering relaxing chair massages, aromatherapy diffusers with essential oils, and more.

Taking the required amount of continuing education credits is just not enough for Dr. Francom. He has logged hundreds of additional hours, including topics such as IV sedation, implant placement and Orthodontics. He takes great pride in the fact that his patients rarely go elsewhere for specialized treatment. Almost everything is done in house…and if the need ever arises for a specialist, Dr. Francom prefers to bring the specialist to the office if possible, making it convenient for his patients. His Associate  Dr. Josh McPhee and Periodontal Specialist Dr. Monica Bazan, join Dr Francom in providing hi-level dental care. Services provided range from standard dental care, fillings and root canals, crowns, dentures and implants. Seagoville Dental also provides periodontal care, oral surgery, including wisdom teeth removal with IV Sedation and orthodontic care, including Invisalign and FastBraces.

Outside of his private practice at Seagoville Dental, Dr. Francom is currently serving in the National Guard as a Captain in the US Army Dental Corps. "It's an honor to serve this country by taking care of soldiers preparing for deployment. The number one reason soldiers are not ready to deploy is because of dental problems." says Francom.

For an appointment or more information, visit them at 605 Avalon Drive, Seagoville, TX 75159, www.SeagovilleDental.com or 972-287-5513.