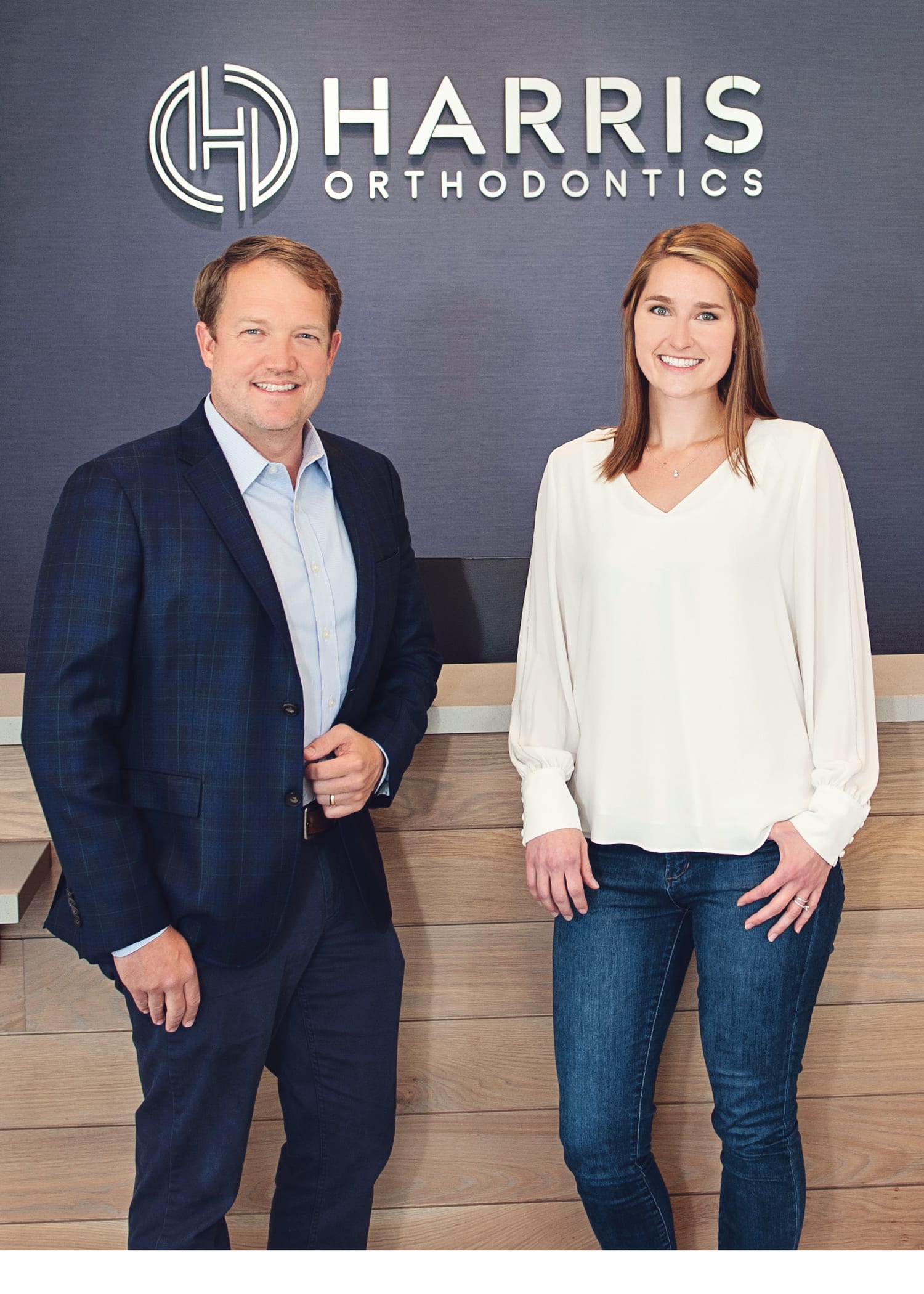 15 Sep

HARRIS ORTHODONTICS BY DEBORAH DOVE

Technology and expertise meet hometown values at Harris Orthodontics, where Drs. Harris and Rochester are changing the way Forney smiles along with their view of orthodontic care.

The difference is apparent the first-time patients walk through the door. Designed to feel like home, the office is comfortable and relaxed with an open flow and feel, and the staff-many of whom have lived in Forney and worked at Harris Orthodontics for years-are welcoming. Dr. Nathan Harris, named a D Magazine Best Dentist for several years, and Dr. Katie Rochester bring specific and specialized knowledge to the practice, as both completed residen­cies in orthodontics after dental school. "This is all we do;' says Dr. Harris. "This is our specialty."

Harris Orthodontics provides comprehen­sive orthodontic care for children, adoles­cents, and adults with a focus on the preven­tion and treatment of dental and facial irregularities. Through expert orthodontic treatment options that include ceramic braces and clear aligner therapy, Harris Orthodon­tics can address poor jaw growth, correct bites and, of course, improve smiles!

Part of the Harris Orthodontics team's commitment to providing the highest level of care to their patients includes state-of-the-art technology, such as the iCat 3D Radiograph which allows the doctors to take more precise X-rays with lower levels of radiation, as well as 3D scanners and printers which can be used to provide patients with clear aligner therapy at a lower cost. The office is also completely digital, and patients can make appointments via text, online, or the old-fashioned way by calling the office. "We want to care for patients with the best treatment options available, and we incorporate the latest advances in technology to do so;' says Dr. Rochester.

In addition to sharing a passion for problem-solving and math, particularly when applied to orthodontics, both doctors enjoy staying active. In his free time, Dr. Harris competes in Ironman triathlons; this helps him and his wife, Diana, keep up with their nine children. Dr. Rochester and her husband love to hike, ski, bike, and travel.

Always striving to provide excellent treatment since opening the Forney office in 2005, Dr. Harris started a local dental study club last year, wherein dentists from various fields such as oral surgery, periodontics, and general dentistry get together once a month to go over case studies. "It's a great opportunity to build relationships with specialists in the area, as well as develop comprehensive treatment options for more complex cases," says Dr. Rochester.

Below, Drs. Harris and Rochester answer some of the most commonly asked orthodontic questions.

What Will Happen at My First Appointment?

Upon arriving, each patient (and parent, if the patient is a child) will be seen by the staff and doctor who will familiarize them with the office and prepare them for the initial exam. Photographs and x-rays necessary to make a proper diagnosis will be taken. The doctor will then complete a brief, but thorough, exam and make a recommendation for treatment.

All treatment plans are customized for the individual patient based on their chief concerns and diagnostic records.

Parents are always welcome to sit with their children during their treatment or wait in the waiting room. Private treatment rooms are available for adults or patients who are anxious or have special needs.

How Long Will It Take to Complete Treatment?

 

Typically, treatment takes one and a half to two years. For children, Dr Harris recommends an evaluation at age seven or eight, as many issues can be prevented by early intervention, such as taking out baby teeth or using an expander. Compre­hensive treatment usually begins around age twelve or thirteen, when all adult teeth are present.

Since orthodontists see patients regular­ly for one to two years, "you develop a close relationship," Dr. Harris says. That's why it's important to pick a doctor who you feel comfortable with, trust, and who has the training and expertise to ensure the results you want.

Is It Too Late to Have Braces If I'm an Adult?

Health, happiness, and the self-esteem a beautiful smile delivers doesn't have an age limit! "We have patients that range from seven years old to seventy years old," says Dr. Harris.

Many current technological advances benefit adult patients, particularly those whose smiles aren't perfect, and may only need minor correction, such as those who wore braces when they were younger but whose teeth have since moved. Software such as the office's 3D printer and scanner can be used to create clear aligners similar to Invisalign, but at a lower cost. Many adult patients can also take advantage of Harris Orthodontics "Virtual Smile Consulta­tion," where they can submit pictures through a HIPPA-compliant portal to see if they're a candidate for treatment.

How Much Does Treatment Cost?

The actual cost of treatment depends on several factors, including the severity of the patient's orthodontic problem and the treatment approach selected. Harris Orthodontics accepts most insurance and will file insurance. They also offer interest-free payment plans.

Your perfect smile is a phone call away. Text or call (214) 528-6116 to book your appointment with Harris Orthodontics today.