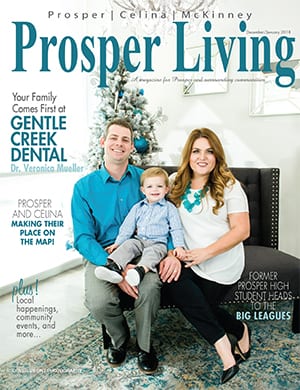 11 Dec

GENTLE CREEK DENTAL Your Family Comes First at Gentle Creek Dental Veronica Mueller D.D.S. BY LISA JENKINS-MOORE

While the pace of life may often get the best of us, we cannot fail to ignore the importance of healthy teeth and gums. Though many realize the need to get regular check-ups and others desperately need dental work, finding the right dentist can be a chore. For those in and near Prosper, your search may be over. Meet Dr. Veronica Mueller, the sole proprietor of Gentle Creek Dental. She and her team opened their practice just a few months ago and are eager to serve their community.

Dr. Mueller says, "I want to create the kind of practice I'd want to go to." She's had experience with both the bad and the good, and credits her aunt for helping her achieve excellence in dentistry. Her aunt has been a dentist in Plano for many years and Dr. Mueller worked for her early on and considers her a mentor. "She knew I would be a dentist before I even did." Dr. Mueller moved from Florida to attend school at SMU, met her husband there, and later attended the University of Texas School of Dentistry.

Now a mom to a toddler, Dr. Mueller understands the desire of many patients to have access to dentistry for the entire family in just one location. She and her team offer service to young and old and accommodate family appointments when available. The warm, welcoming atmosphere helps to put patients at ease and Dr. Mueller's undivided, individualized attention to each patient sets her apart from others in the field.  "I don't want to bounce from room to room, but spend quality time with each patient. I treat people the way I want to be treated—with honesty and mutual respect."

Though sole proprietorships has its ups and downs, one of the main reasons Dr. Mueller branched out on her own is to gain the flexibility to participate in yearly missions. Her husband, a firefighter, is also a care giver, and together they travel to Central America each year to provide free healthcare to those in need. They both believe in the importance of sowing into the lives of others and have been faithfully involved in missions for several years. While the dental practice has just begun, Dr. Mueller is already investigating ways she can serve her local community as well.

When not in the office or on the mission field, Dr. Mueller loves being with her family. She and her husband, John, and son, J.R., enjoy frequent trips to the park. She also enjoys crafts and creating beautiful fondant cakes (yes, the cavity-causing kind!). Dr. Mueller looks forward to meeting new patients and developing long lasting relationships for many years to come. She welcomes you to "Drop in and say, 'Hi'!"

SERVICES INCLUDE:
Comprehensive Family Care
Tooth Colored Fillings
Crowns/Bridges/Veneers
Cleanings
Whitening
Dentures
And Much More!
"I want to provide dental care to friends and neighbors in Prosper – to people I can get to know and really care about. I want to practice old- fashioned, hometown dentistry – family dentistry – in the truest sense of the word."
Call us today!
1180 N. Coit Road, Ste #50
Prosper, TX 75078
972.347.6400
www.gentlecreekdental.com