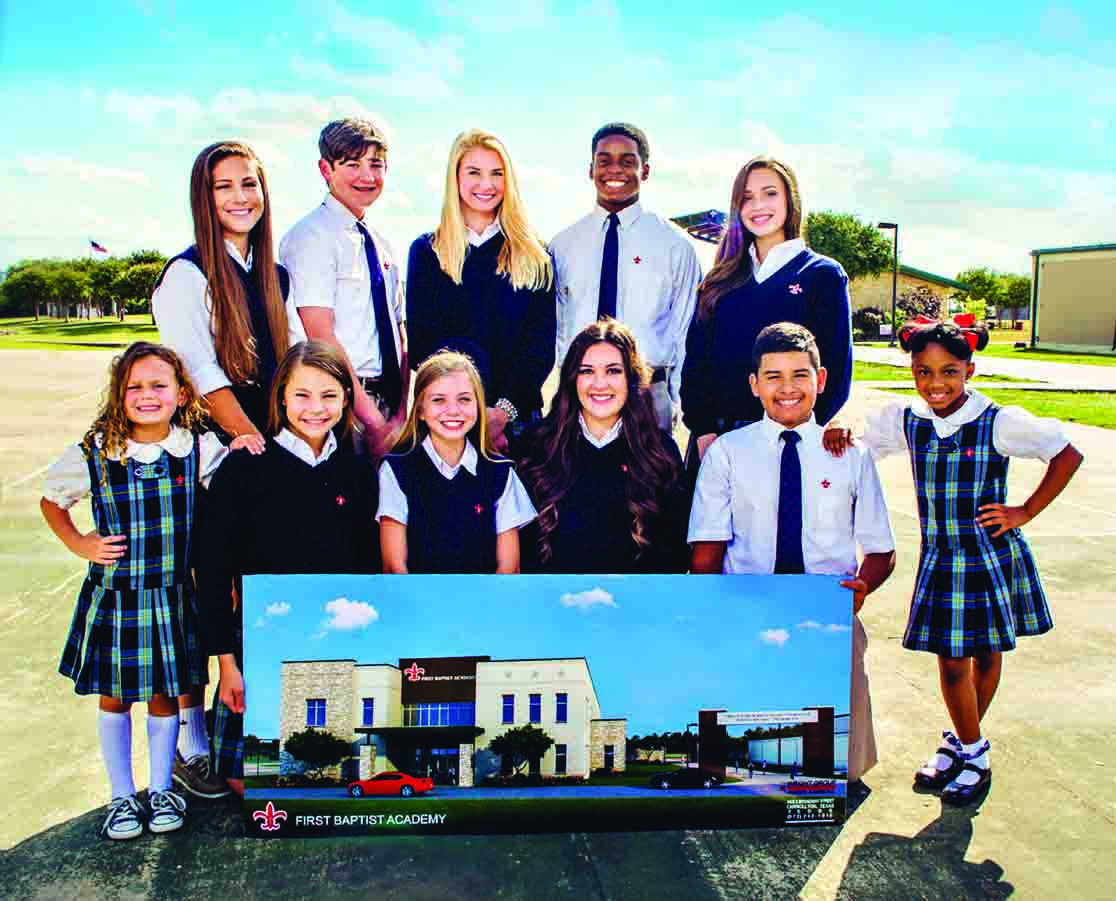 14 Dec

First Baptist Academy MOVING TO A CAMPUS NEAR YOU BY JAMIE ENGLE

Oftentimes, the holidays mean bringing your family together. For First Baptist Academy in Dallas, their new facility off I-30 and the Loop 12/Buckner exit not only brings their family together, but also gives them the opportunity to grow and expand in so many ways.

For more than 40 years, First Baptist Academy has provided a Christ-centered education at their downtown Dallas campus. While planning for the next 40 years, FBA leadership has decided to move the Academy to the 23-plus acre campus at the Saints Athletic Complex (SAC). The SAC has been the home of FBA's athletic program since 1998.

The new building will hold up to 400 students, about double what the downtown location holds now, and will be outfitted with all new technology. Ground broke for phase one of the new facilities in early October.

"We have a master plan to develop our entire school campus as we grow," noted Jason Lovvorn, Head of School.

FBA's core mission remains the same: provide a Christ-centered education.

"Same focus, new campus," explains Lovvorn. "Our priority and focus is on being a Christian school and providing a Christ-centered education. It's our passion."

"We are a close-knit family here at the school, and all being at the same location in the same building at the new campus will be great," said Lovvorn."The kids spend a lot of time at the SAC for events and games, and it will be nice to all be on the same campus and really use that land to expand classroom experiences and grow."

Lovvorn and Director of Admissions, Elizabeth Gore, are just two of many alumni that returned to FBA, ready to impact students like the FBA coaches and faculty did when they were students. FBA's counselor, Mark Hines, just finished his 40th year at FBA.

"The same reason grads come back is the same reason employees have been here for a number of years: it's much more than a job and going to work. It's a passion for Christian education and being part of the FBA family," Lovvorn said.

"It's really what we're all about – every single student, every single day, woven into the fabric of everything we do," he said.

Weekly chapel services, peer groups, discipleship and Bible classes are just the beginning. Every teacher is trained on incorporating Biblical teachings in class, and their lesson plans reflect this Biblical integration.  Each  week,  the  entire  school (PK3 through grade 12) works on committing a Bible verse to memory and exploring its meaning. Teachers start every class with a prayer and devotional. Students have an adult mentor, and Upper School students are paired with Lower School students to mentor.

"When they leave FBA, students will have a firm foundation in Christ," said Elizabeth Gore. "We prepare them academically and teach them how to keep Christ at the center of everything they do."

Providing a well-rounded education is key. They are a college-prep school, offering Pre-AP and AP classes, as well as a number of extra-curricular opportunities.

FBA boasts recent state championships in football, cheerleading, and art, with athletic teams going to playoffs regularly in the Texas Association of Private and Parochial Schools (TAPPS). FBA fields teams in football, volleyball, dance, cheer, basketball, swimming, girls soccer, wrestling, baseball, softball, track, tennis and golf. This spring, they will offer a youth sports association.

Community members are invited to learn more about FBA's passion for Christian education and see the new construction taking place at the many open house events throughout the school year (see the sidebar for dates and times).

"It was a blessing to be able to attend FBA as a student, and it's a blessing now to be part of the FBA family as an adult," Gore said. "We all want to be examples and a witness for our students and prepare them academically to do what God calls them to do after graduating."

"It's at the core of everything we do here at FBA, and we'd love for you and your children to become part of our growing family," Lovvorn said.

For more information, attend one of FBA's open house events and visit their website at fbacademy.com.

Join us!

Would you like a preview of First Baptist Academy's new home?

Do you have questions for Jason Lovvorn, Head of School?

Join First Baptist Academy at any of the events listed below, held at the Saints Athletic Complex/Future Home of First Baptist Academy (7894 Samuell Blvd., Dallas, 75228).

OPEN HOUSE:

Thursday, December 1, 2016 at 6 p.m.

Thursday, January 19, 2017 at 6 p.m.

Monday, February 27 at 6 p.m.

Thursday, March 23 at 6 p.m.

Tuesday, April 11 at 6 p.m.

Sunday, April 23 at 2 p.m.

Saturday, May 13 at 10 a.m.

LOWER SCHOOL ROUNDUP

AND OPEN HOUSE:

Friday, February 3 from 9 – 11 a.m.

First Baptist Academy Mission:

First Baptist Academy provides a Christ-centered Biblically integrated, college preparatory education to develop the next generation of Christian servant leaders for the glory of God.

First Baptist Academy strives to create an environment where students can discover and mature in their Christian faith. Here are some of the ways they accomplish that:
Along with daily Bible courses, FBA offers additional discipleship classes for students to train them in their faith.
FBA OnMission is a service program designed to teach our students about the importance of Christian servant leadership.
All students, families, faculty and staff are encouraged to memorize the school-wide Bible verse of the week.
Weekly chapel services provide a special time to hear from a speaker, as well as break into small discussion and prayer groups.
Every teacher begins class with a prayer and/or devotional time.
Every teacher is trained on incorporating Biblical teachings in class, and their lesson plans reflect this Biblical integration.
The Mentor/Mentee Program pairs an Upper School and a Lower School student together, to encourage each other, and build relationships throughout the year.
Christian music is played over the loudspeaker each morning.
Students will read through the entire Bible in class during their four years in Upper School.