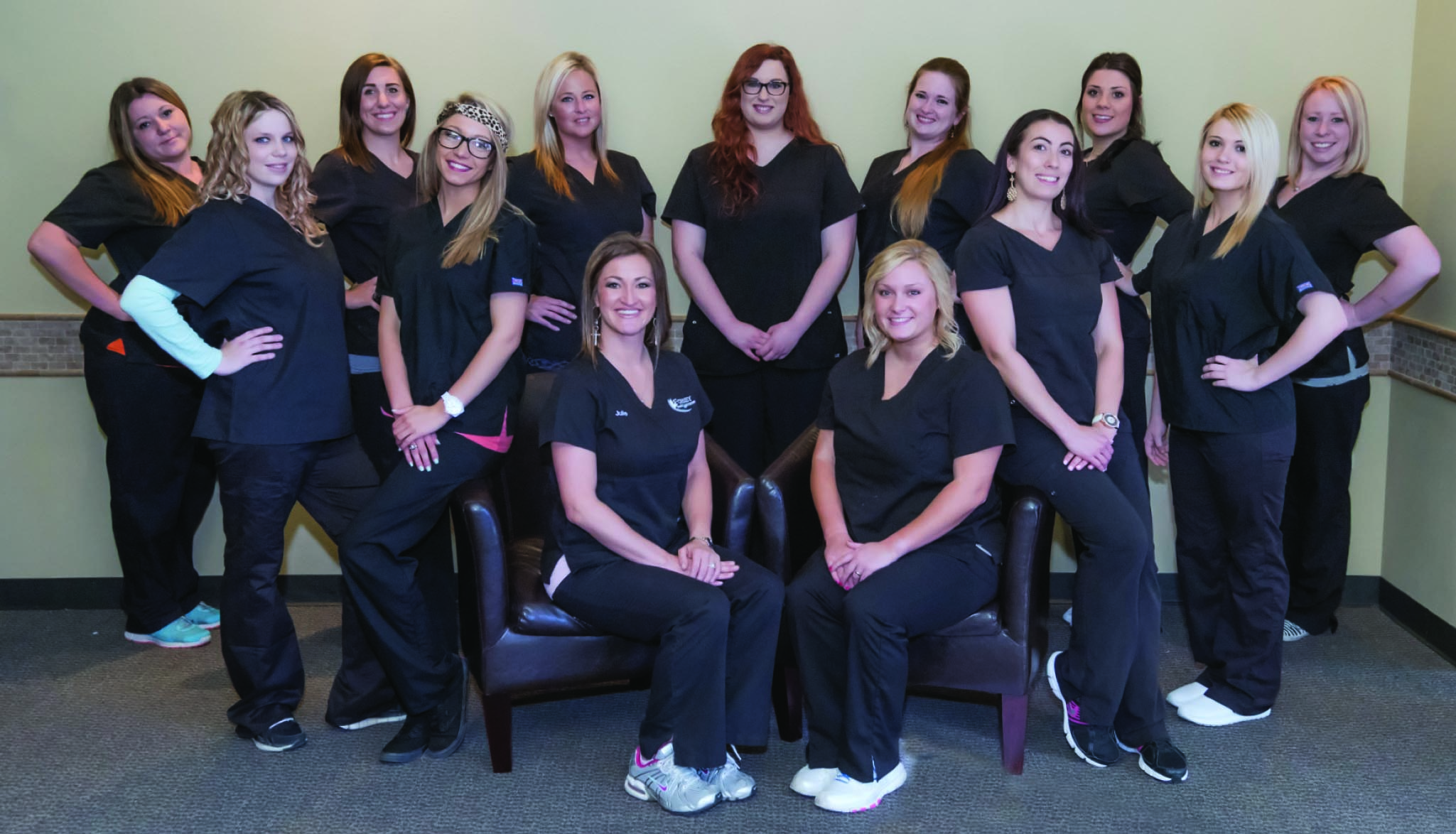 10 Jun

Elite Dental Assisting School Offers You the Edge to Succeed

BY WENDI CARTWRIGHT

Looking for that something that will give you the edge on the competition? Thinking of beginning a new career in the dental field? The Elite Dental Assisting School in Forney is a smart place to start, arming you with the tools you'll need to succeed…and surpass your competition.

Dr. Melina Cozby has owned her own dental practice, Forney Family Dentistry, for six years. While she was still a student in dental school, her dream was to open her own practice in her hometown of Forney. Well, she has realized that dream – and has taken it one step further! The Elite Dental Assisting School was born out of her desire to make a difference.

"I decided to open a dental assisting school several years ago for a couple of reasons. I wanted to make a difference in my profession that was not limited to smiles on patients. I wanted to make a difference in my team and to help others further their career. Becoming a highly skilled and trained dental assistant is limited by the type of instruction and inspiration you receive through your learning process. I love to teach, love to motivate, inspire and cultivate learning in others. Give me someone who is passionate about wanting to help others and I will teach them everything I know. I love to watch their passion grow with knowledge that is crafted into skills they will use throughout their career forever," says Dr. Cozby.

There are many dental assistant schools that are good at teaching the necessary concepts to students, but Elite Dental Assisting School does more than talk. Dr. Cozby's Elite School offers a curriculum that excels in not only teaching the concepts needed to train highly sought after dental assistants, but in combining those concepts with the hands-on experience necessary to turn an average assistant into a stellar one. While other schools are having their students practice their new skills on mannequins, students at Elite are able to interact with actual patients, in real-life situations.

"Mannequins don't have anxiety, or a gag reflex, or bite," says Cozby. This is an important point of differentiation…and one that more fully prepares the student to be successful from the start. Hands-on instruction and practice allows the students to put their "book" knowledge into actual practice, right alongside experienced assistants and the doctor. This offers an advantage…giving students an edge in the marketplace.

Last summer, one student attended an open house sponsored by Elite Dental Assisting School. The woman had recently completed a longer dental program, which cost twice as much as Elite's, but was having difficulty in finding a job. After enrolling and graduating from Elite, she is now thriving as a successful dental assistant. The big difference? Hands-on training.

"Your brain may know that you are supposed to pick up a particular instrument, but only the act of performing that function will train your body to follow what your minds tells it to do," says Cozby. That's why hands-on training is so important.

Dr. Cozby understands that there is a big difference in dental assistants "knowing" what to do and in being able to accurately translate that knowledge into action. This type of training allows students to pair that very important book   knowledge   with   the   priceless experience of hands-on training, creating a well-rounded assistant ready to step into a dental office and succeed. This combination of training styles offers a distinct advantage…giving students an edge.

Dr. Cozby is also a huge proponent of making sure students understand the "why" behind everything that is taught at Elite. It's easy to learn "how" to do something, but understanding "why" you are doing it brings everything into focus. It's that "ah ha" moment when the picture finally comes into focus. It allows you the flexibility to alter "how" if you know "why" you are doing it. This is an important ability to have when working with different dentists. Each dentist has their own unique techniques for completing a procedure. It's easier to transition and adapt to different styles and environments if you know the why. Focusing on the why offers an advantage…giving students an edge.

When you become a student at Elite Dental Assisting School, you not only receive the hands-on training and the opportunity to work alongside established assistants and the doctor, you will also be trained inside a dedicated conference room at a private dental office, where state-of-the art equipment is used. In addition to mandatory class work, students will also learn about the super-important topics of sterilization and hygiene, work in the lab (making of mouth guards, mouthpieces, polishing dentures and crowns, etc.) and much more. Students will be allowed to "assist the assistant," standing beside and observing the assistant, as they work with the doctor. More learning opportunities occur directly after individual patient visits, when the doctor quizzes the students on why certain procedures were utilized, further enhancing their level of understanding. When the doctor feels they are ready, and only with the patient's permission, students are allowed to assist the doctor. All of these hand-on opportunities offer the student an advantage…giving them an edge.

Dr. Cozby is passionate about what she does…not only in her work as a dentist, but as a mentor and teacher. The kind of classroom training and hands-on experience she offers at Elite Dental Assisting School consistently turns out well-rounded, successful dental assistants.

"I want the students to be the absolute best at their position. Certificates don't make you stand out – your knowledge does…your confidence does…your training does," says Cozby. The passion, care and desire for ultimate success is an advantage she gives the students…

creating a definite edge.

If you are interested in learning more about becoming a dental assistant, be sure to attend an upcoming open house event at the Forney office. Open house runs from 6 to 8 p.m. on June 11th, July 23rd and August 13th.

Two upcoming class sessions

have been scheduled for

June 16th and October 6th. Classes run for 14 weeks

and meet every

Tuesday and Wednesday evening, 5:30-9:30 p.m.

Call Forney Family Dentistry at (972) 564-7575, or

stop by 108 E US Hwy 80, Suite 190, Forney, TX 75126

or visit them online at

ForneyFamilyDentistry.com

for more information.