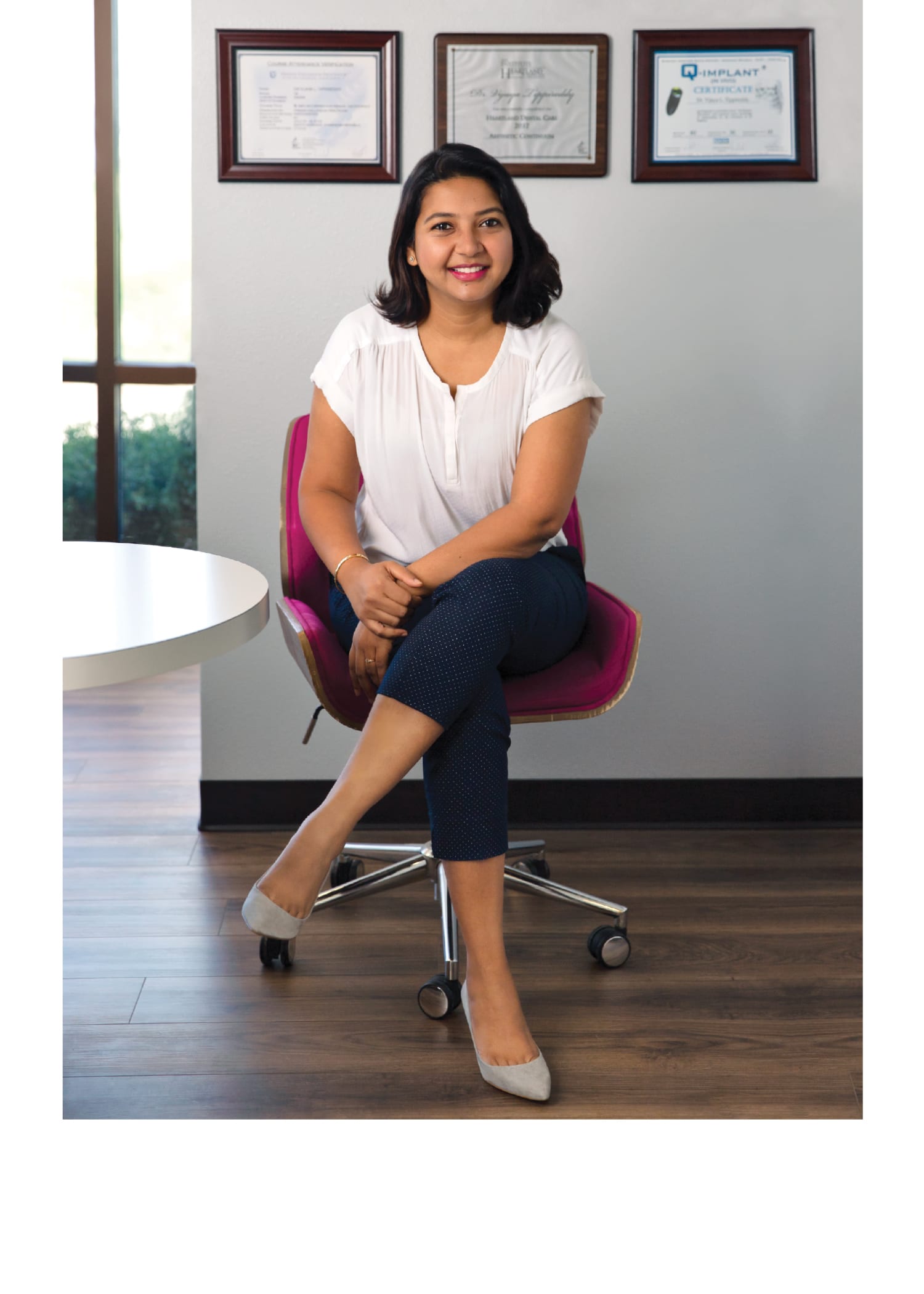 15 Sep

DENTAL CARE DURING COVID-19 V Smile Family Dental Keeping Patients Safe with Universal Precautions BY DEBORAH DOVE

As the world slowly reopens after several months of closures due to COVID-19, dental offices face a new challenge-keeping patients and staff safe while providing the comprehensive dental care necessary to keep teeth, gums, and mouths healthy and intact. While some people may be concerned about visiting the dentist and think it's safer to stay home-whether they have a specific problem or it's time for a routine cleaning-Dr. Vijaya Tippireddy of V Smile Family Dental in Frisco stresses that is not the case.

"You do not want to neglect your teeth at this time," says Dr. Tippireddy. "Dental health is part of your overall health. And with the safety precautions we have in place, there is no need to delay your dental treatment."

Dental Offices Are One of the Safest Places to Be

In fact, Dr. Tippireddy says that dental offices are one of the safest places. After all, dentists have been following advanced protocols for over three decades. Dr. Tippireddy, who attended dental school twice-once in India and once at the esteemed University of the Pacific in San Francisco-says that all dental schools already train students to take "universal precautions," also called common sense precautions or standard of care.

Started in the 1980s during the AIDS epidemic, the protocol dictates that dentists assume every person they treat is infected and proceed accordingly with the necessary precautions to ensure the infection isn't spread. Before the novel coronavirus even existed, dental offices were wiping down all surfaces with disinfectant; dentists were wearing gloves, masks and protective eyewear and providing protective eyewear for their patients; and dentists were properly disposing of anything that came in contact with body fluids.

Extra Precautions

Although taking the necessary steps to inhibit contamination and infection has always been part of Dr. Tippireddy's standard practice, V Smile Family Dental is taking added precautions for the safety of their patients, team, and family members. "Universal precautions have been there, but now we've upped the game a little more," says Dr. Tippireddy.

FOR STAFF MEMBERS
At the start of each day, each team member's temperature is taken to ensure they are well before beginning work.
In addition to clean scrubs, all staff members wear long protective coats which are disposed of every day, as well as head caps, shoes that are only worn in the office, and face shields.
When working on a patient, team members wear N95 masks.
FOR PATIENTS
Before coming into the office, patients answer a questionnaire to ensure they are symptom free, have not traveled in the last two weeks, and have not come in contact with anyone who's been sick.
A staff member will call the patient the day before their appointment to follow up and answer any questions.
Patients stay in their car and call the office to "check in" upon arrival. A staff member will take their temperature at their vehicle with a touch less infrared thermometer to ensure they're fever free before coming into the office.
Patients are taken straight back to the treatment room and given a mouthwash to disinfect their mouth before any treatment begins.
Everything is thoroughly wiped down with disinfectant between patients. There is at least fifteen to twenty minutes between each patient to allow the team to properly clean and disinfectant the office and treatment rooms and to limit the number of people in the office at one time.
Patients are required to wear face masks or are given one to wear if they don't have their own.
V Smile Family Dental has also installed three HEPA filtrations systems in the office to clean the air and filter out bacteria and virus particles for added safety.
"A lot of people are eating healthier and working out now that we all have more time at home," says Dr. Tippireddy. "Take advantage of that boost in healthy habits to take care of your teeth too." "In our dental office, we're doing everything we humanly can to minimize the risk, so our patients feel safe," she continues. "I wouldn't open up if I weren't comfortable coming in myself or bringing my family." And after almost a month and a half of state-mandated closure, Dr. Tippireddy is excited about seeing her patients, whom she thinks of as family.