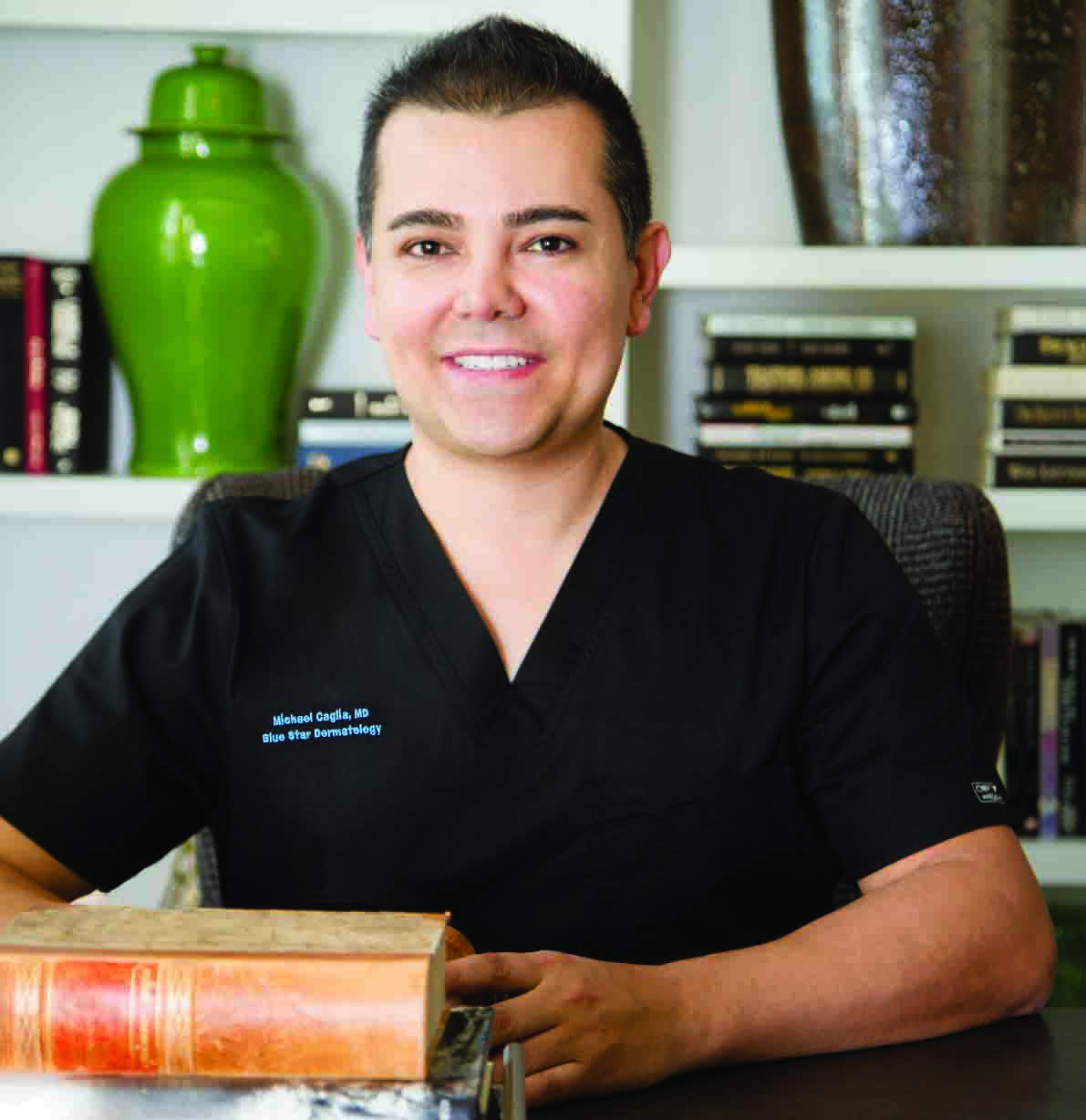 14 May

BLUE STAR DERMATOLOGY & COSMETIC CENTER: PATIENT ORIENTED CARE FOR NORTH TEXANS BY DAWN BLUEMEL OLDFIELD

Over the last few decades, we have become more aware of the damage the hot Texas sun can cause to our skin, and the importance of taking care of it. From daily UV protectors in creams and sprays to UPF 50 sun protective clothing, we are armed with better means of caring for our skin.

However, when these products are not sufficient, Prosper welcomes board certified dermatologist, Michael Caglia, MD who will be opening his office, Blue Star Dermatology & Cosmetic Center, for all of your skin care needs and desires on June 1, 2018.

Dr. Michael Caglia, the founder of Blue Star Dermatology & Cosmetic Center, brings to North Dallas a practice where he will be able to provide a high level of dermatology medical care directly to each patient.  He is one of the few dermatologists in North Texas to complete a research fellowship in pediatric dermatology and psoriasis and is passionate about patient care above all else.

Dr. Caglia shares, "I received my undergraduate degree in Biology from the University of San Diego.  I then graduated from medical school at Texas Tech University Health Sciences Center in Lubbock, Texas, in 2010. Following medical school I completed my Internal Medicine internship at Johns Hopkins in Baltimore, Maryland.  I then went on to complete a one year clinical research fellowship in pediatric dermatology at the University of California, San Diego, as well as a one year clinical research fellowship in psoriasis at the University of Utah. I completed my dermatology residency training at New York Medical College in New York City, where I was Chief Resident my final year.  Because of my extensive training, I am able to treat patients of all ages from eczema in children to patients with skin cancer."

Prosper is indeed fortunate to have a gifted dermatologist of Dr. Caglia's caliber and expertise.  Whether you're trying to control acne, wanting to improve your skin's appearance, or wanting to prevent skin cancer, Dr. Caglia and his staff are prepared to meet and surpass your needs. He states, "At Blue Star Dermatology & Cosmetic Center, we specialize in treating acne, eczema, psoriasis, mole removal, skin cancer, melanoma, hair loss, and rashes in general dermatology."  Dr. Caglia's father, Anthony Caglia, M.D. will be relocating his cosmetic dermatology practice in Plano and joining the team. Together they will offer an array of cosmetic dermatology services that include Botox, dermal fillers, photofacial and sclerotherapy for leg veins.  In addition, they have a variety of laser treatments for hair removal, brown spots and spider veins along with stretch marks, acne and traumatic scars.  Our fractional CO2 resurfacing laser is a great option for patients looking to reverse the signs of aging, loose skin, and wrinkles.

Dr. Michael Caglia was born and raised in Texas, so his roots run deep in the Lone Star State. He and his wife Jessica will make Prosper home along with their two beautiful children—son, Knox and daughter, Aspen.   Dr. Caglia says, "Prosper has the perfect balance of a small town feel but close to the big city that will make it a great place for raising our family.  After moving multiple times during my medical training, my family and I are looking forward to finally establishing some roots and being part of a growing community.  It's also very important to be in an area with a high demand for dermatological services.  I want to be able to fill those needs in Collin County and the North Texas area to reduce the time people are currently waiting to see a dermatologist. Social responsibility is an important cornerstone to the culture of Blue Star Dermatology & Cosmetic Center. Jessica and I are looking forward to being involved in community programs to raise awareness and educate children and adults on skin cancer prevention."

With the spring and summer season approaching, Dr. Caglia advises, "Even though it's hard, the most important thing to do is avoid direct sunlight between the hours of 10:00 a.m. and 4:00 p.m. when the UV rays are the most dangerous.  You can do this by wearing hats or being under the shade as well as regularly applying sunscreen that contains zinc oxide.  Remember, you can still get sunburned on cloudy days as well!"

Dr. Caglia and his staff are experienced skin care experts who have all of the information you need to best care for the health and beauty of your skin, and the advanced medical technology and expertise to help you protect it throughout your lifetime.   Blue Star Dermatology & Cosmetic Center is now accepting appointments for general and cosmetic dermatology.

For more information

or to schedule an appointment

call (972) 347-1100

or check our website at

www.bluestardermatology.com.