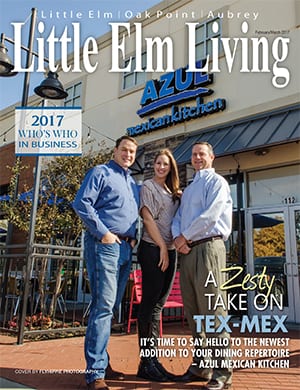 17 Feb

A Zesty Take on Tex-Mex by Wendi Cartwright

As many other born and bred Texans (and hey…who are we kidding…pretty much anyone with a pulse), enjoying a nice hot plate of Mexican food just seems to make everything right with the world. Does your tummy need a little love on a cool winter day? Need to kick the weekend off right with a tasty coconut mojito? How about celebrating a special day? Or, is it just a good day for a little homemade salsa? No matter the reason, it's time to say hello to the newest addition to your dining repertoire – Azul Mexican Kitchen.

"We'd like to thank our regular and returning customers who have given us a great start and awesome feedback! As a single site, go-to, neighborhood Tex-Mex place, it's all about knowing and serving your customer and building friendships," they said.

The large interior is clean and open, while exuding the azul (blue) theme nicely. The seating is comfortable and varied, with choices of booths, tables and bar seating. Speaking of the bar, it's huge and inviting. If you can't find a cure to what ails you, you're not trying! The patio is a must. It's large with plenty of seating…and the area is accentuated with crisp, bright blue umbrellas and hanging lights, creating a relaxing ambience to enjoy the outdoors.

There is even a separate space inside for meetings, parties or larger gatherings.

"We'd like to thank our guests who booked holiday parties in our private room, they were so much fun! Please keep us in mind for your next event," Keith, Tara and Josh said.

Open for lunch and dinner, Azul is sure to become a staple. The menu is extensive, with all of the options represented, a few classics with added surprises and several Azul Signature items sprinkled in for good measure. New menu additions and a brunch menu are under development – stay tuned to our website, Facebook and twitter to keep up-to-date with all the new dishes, uberEATS and our new delivery options (coming soon).

Conveniently located on Eldorado Parkway in Little Elm, Azul Mexican Kitchen is a zesty take on Tex-Mex. And yes, you had me at "Tex-Mex." This family-owned business, focused on creating fresh, classic Mexican fare, is perfect for families, quick lunches, or a relaxed lunch or dinner on the patio. Owners Keith, Tara and Josh come from entrepreneurial backgrounds focused on customer service – and it shows in everything they do!

Take time to visit Azul Mexican Kitchen. You'll be glad you did!